On August 14, 2003, high voltage power lines in Ohio brushed against trees and failed. A software bug kept an alarm from going off, which caused a chain reaction of power station failures that knocked the lights off for 50 million people in the eastern United States and Canada. Transportation shut down as airports, subways, traffic lights and tunnels stopped functioning. Cash registers and ATMs quit. Cell phones became useless when their towers stopped working. In Cleveland, Ohio, water pumps halted and left 1.5 million people without drinking water.
The blackout caused $4 to $6 billion in damage
and contributed to at least 11 deaths. [caption id="attachment_19174" align="alignleft" width="150"]
The night before the blackout (source: NOAA News)[/caption] [caption id="attachment_19173" align="alignright" width="150"]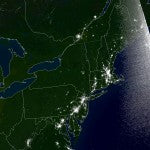 The night after the blackout (source: NOAA News)[/caption] We in the U.S. don't usually think about power. So let's consider it. [caption id="attachment_19178" align="alignright" width="300"]
Electric Power System and Control Communications (source: energy.gov)[/caption] Electricity is unique. Unlike food or water, electricity can't be stored. In any moment, all the power produced is used. It's generated by one of 6,000 public and private power plants and sent hundreds or thousands of miles through high voltage wires. The whole system is divided into four regional grids. Most of the time, it's a consistent, convenient flow. It's designed so if one part of a grid fails, the electricity flow is transferred to another part. If a smooth transfer doesn't happen, however, the electricity load can behave like a flash flood, sending a blast of power a station isn't equipped to handle. When that station's breakers fail, its electricity gets transferred to yet another station. If enough stations fail, there's nowhere for the power to go. It slams through station after station, all of which shut down to protect themselves. Blackout. Alternatively, if one power plant fails, others might not immediately have enough power to supply everyone's needs. This is an especial concern in the eastern U.S. during winter. Some plants run on natural gas. But heating needs take precedence. So if there's not enough natural gas to both heat the population and generate electricity,
electricity goes first
. Blackout. Both utilities and government have taken many steps to improve the way they handle potential failures, including upgrading software, establishing communication plans and practicing emergencies. Two types of situations in particular make them nervous: geomagnetic storms and cyber and physical attacks. [caption id="attachment_19179" align="alignright" width="300"]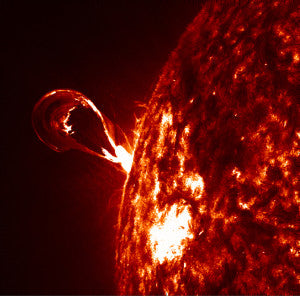 Solar eruption (source: NASA)[/caption] The sun constantly barrages the earth with charged particles. Normally, the magnetic field around the earth stops most of the particles – and creates the aurora borealis light shows. Especially during times of high sunspot activity, however, the sun can eject a light-speed blast of x-rays and energy, called a solar flare, and particles from its outer layer, called a coronal mass ejection.
A NASA writer
compared the solar flare to a cannon flash and a coronal mass ejection to the cannonball. When the cannon flash hits the earth, it can disrupt radio communication and navigation. The cannonball is much worse. It can create electrical currents that can overload utilities. A 1989 geomagnetic storm took only 90 seconds to collapse a northeastern Canadian power grid.
Millions of people lost power
for up to nine hours. The storm also caused minor damage throughout the U.S. Longer outages of several days, even in one area, could cause widespread government, financial, and infrastructure destruction,
according to a National Research Council workshop
. "Loss of these systems for a significant period of time in even one region of the country could affect the entire nation and have international impacts," one presenter said at the workshop. But at least scientists are getting better at predicting solar storms, their strength and duration. They can now give utilities 45 minutes' warning. It's something. [caption id="attachment_19183" align="alignright" width="300"]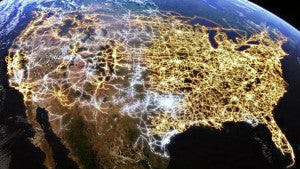 source: The Weather Channel[/caption] A more insidious threat is human attacks.
A March 24 USA Today investigation
found that the nation's power grids face a physical or cyber-attack once every four days. Unless the attackers are, say, from the hacker group Anonymous, they don't usually give any warning.
On April 16, 2013, attackers cut six underground fiber-optic cables
at a substation in northern California then fired more than 100 shots at its transformers. They caused more than $15 million in damage. They were never caught. Utilities and government agencies are trying to prepare for attacks. Every few years, the North American Electric Reliability Corporation runs a cyber attack response exercise. In its first, in 2011, 75 organizations participated. Its third is planned for this November. However, even the Department of Homeland Security's Industrial Control Systems Cyber Emergency Response Team admits it's impossible to stop all attacks. The best they do is communicate effectively and contain damage. After a power grid disaster, government and utilities' highest priorities will not be you. They'll be getting power plants online and making sure medical facilities and first responders have the watts they need,
according to the U.S. Department of Energy
. "While these government and industry groups initially focus on critical facilities, homeowners, business owners, and local leaders may have to take an active role in dealing with energy disruptions on their own," the DOE wrote. Here are some ways to prepare, from
Ready.gov
, the
American Red Cross
and the DOE.
Have a fully stocked emergency kit including food and water, a flashlight, batteries, cash in small bills, and first aid supplies.
Keep your cell phone and other battery-powered devices charged and have an alternative charging method. If you have an electric garage door opener, know how to release it manually.
Keep your car's gas tank full. You can run a vehicle for power, but not in an enclosed space, unless you like carbon monoxide poisoning.
If you use a power-dependent or battery-operated medical device, tell your local utility so it can prioritize your home. Have a backup plan.
Find out where to buy dry ice. Fifty pounds will keep a fully stocked fridge cold for two days. Without it, an unopened fridge will keep food cold for only about four hours. A half-full, unopened freezer will keep food cold for about 24 hours. Food in a packed, unopened freezer will stay cold for twice that long.
Several months ago, a nearby transformer blew out. It was evening and rapidly getting dark. My special needs daughter panicked. I had my cell phone and its flashlight, but only about 10 percent of charge remained. I had a flashlight, but its batteries were dead. By the rapidly diminishing power from my phone's light, I found batteries and got it working. My daughter calmed down. But the power didn't come back on for several hours, and the electric company was working on the transformer well into the next day. I learned two lessons. First, keep my phone charged (maybe I haven't learned that one yet). Second, know where emergency equipment is and make sure it's in good shape.