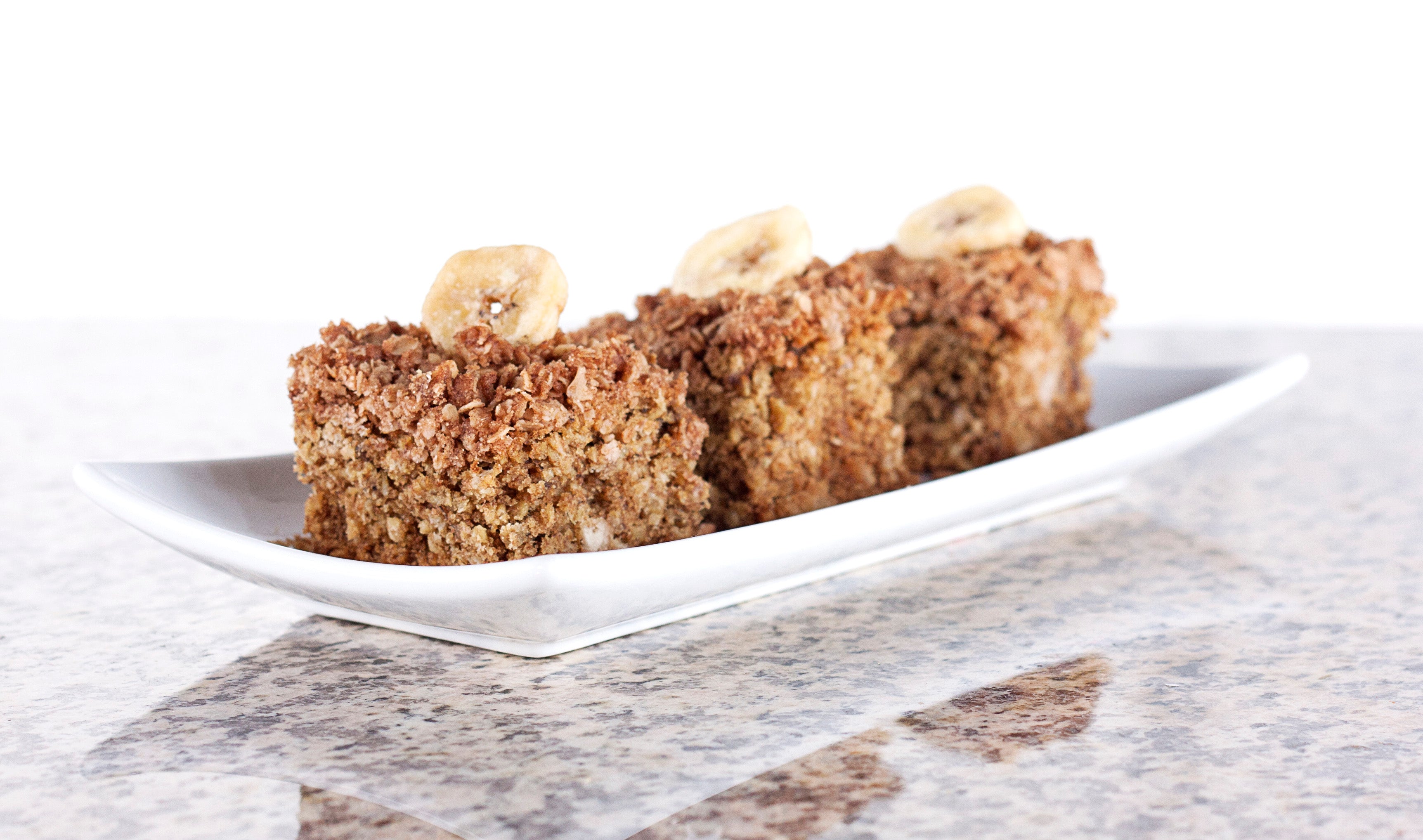 This week we baked Banana Oat Crumb Cake using food storage. Since it was a hit with everyone in the office and smelled absolutely delicious as we baked it, we wanted to share our recipe with you. We left out the walnuts so it would be 100% food storage, but if you've got them, throw them in for a little extra crunch and some additional nutrients.
Banana Oat Crumb Cake
½ C
Butter
, Softened 2/3 C Packed
Brown Sugar
2 Eggs (4 Tbsp
Whole Egg Powder
+ 6 Tbsp Water) 1 C
Freeze Dried Banana Slices
, Mashed 1 tsp Vanilla Extract or
Vanilla Powder
¾ C
All-Purpose flour
1 1/3 C
Dehydrated Rolled Oats
¼ tsp
Salt
1 tsp
Baking Soda
¾ C
Rolled Oats
1/3 C Packed
Brown Sugar
2 Tbsp
Butter
or
Clarified Butter
2 Tbsp Walnuts (optional) ½ tsp
ground cinnamon
Sift together flour, 1 1/3 cups of oats, salt, and baking soda. In a large bowl, cream ½ butter with 2/3 cup brown sugar. Beat in eggs, then bananas and vanilla. Beat flour mixture into banana mixture. Turn batter into a greased and floured 8 inch square pan. Mix ¾ cup oats, 1/3 cup brown sugar, melted butter, walnuts, and cinnamon together until crumbly. Bake in preheated oven at 350°F for 40-45 minutes. Transfer to a rack to cool.
Tips and Tricks to making an awesome Banana Oat Crumb Cake:
According to Urban Girl, if you only have
dehydrated bananas
in your food storage, you'll want to crush them into smaller pieces to speed up the reconstitution process. Unlike freeze-dried bananas, dehydrated bananas seem to take a bit longer to reconstitute. Place your dehydrated bananas in a zip-top bag, and crush them into smaller pieces. Dump the small banana pieces into a bowl and then add piping hot water to begin reconstituting. Once the bananas are fully reconstituted, drain and mash them. Urban Girl also left a few pieced un-mashed, which was delicious. You may prefer a smoother consistency—and if so, you just mash away to your heart's content.
If you have a Sweet Tooth:
Bake the cake and set aside to cool. After making your topping, bake it in the oven by itself, instead of on the cake, to make it extra crispy. Coat the cake with cream cheese frosting and sprinkle your baked crumble topping all over. Just imagine how heavenly your house will smell while it's baking. Imagine how good it will taste. Just writing about it makes me want dessert right now. . . To see what else has been going on in the Emergency Essentials kitchen check out our post
Personal Pizzas on the Volcano Grill
, and see what other
recipes
we've been cooking up! --Angela