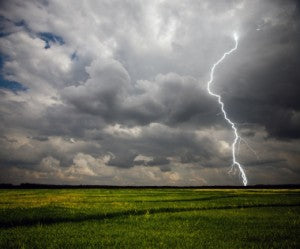 According to NOAA, as of July 1
st
, 2013, there have been 9 lightning fatalities this year. And while researchers at National Geographic suggest that "the odds of becoming a lightning victim in the U.S. in any one year is 1 in 700,000," on average, 54 people die each year from a lightning strike while participating in outdoor activities. Summer is the perfect time for outdoor activities like fishing, hiking, and swimming; it's also the perfect time for thunderstorms. Since we are in the heart of summer, consider learning how to protect yourself from lightning during a thunderstorm.
What's the relationship between thunder and lightning??
Thunder doesn't exist without lightning! This is why you should never say, "it's just thundering and there's no lightning, so it's okay to stay outside." Thunder's shock wave can hurt people and property if it's close enough. To determine how far away the lightning is
,
figure about one mile for every five seconds between the flash and the report. Don't assume you're safe if the storm is several miles away—lightning has a long reach!
What attracts lightning?
Discovery Channel's "How Stuff Works" site suggests that objects on Earth—water, trees, steeples, towers, metal
,
and
you and I
!—all send up climbing surges of positively-charged electricity known as
streamers
. Tall, pointed objects send up the longest streamers around, attracting any available lightning bolts and sending them harmlessly into the ground. These streamers create a channel that the electrical charge passes through, "inviting" the lightning (which follows the path of least resistance). When lightning comes within 150 feet of Earth, it latches onto a convenient streamer and follows it to the source—and zap! You have a lightning strike.
Where are lightning strikes common?
According to weather.com, Florida is the United States' lightning capital because of warm, moist air from the Atlantic Ocean and the Gulf of Mexico. However, more
people
are struck by lightning in wide-open spaces (imagine the Arkansas landscape!). Since lightning strikes the tallest objects in its path, people, horses, and even cattle in a wide-open space are vulnerable, especially if no other tall objects (like a building or water tower) are in the area.
How do you protect yourself in the open?
If you hear thunder or see lightning, go inside or get in a car with the windows rolled up. DO NOT touch any metal.
If no shelter is available, crouch or sit in as compact a position as possible with your head down—but DO NOT lie flat or allow your head to touch the ground!
DO NOT shelter under a tree.
DO NOT stay in or close to water. Electrical current spreads across the water's surface.
If you're caught in a boat, make yourself as small as you can. (Remember that streamer you're sending up? It becomes longer the taller you are. Make it as short as possible by crouching down and lowering your head.)
AVOID golf-carts, trees, light-poles, picnic pavilions, and port-a-potties.
What do you do if someone is struck by lightning
? Victims of lightning strikes may suffer burns, coma, residual weakness, numbness, paralysis, sleep disturbance, or memory loss. In the event of a lightning strike, call 9-1-1 immediately then give first-aid to the victim, who will probably be unconscious. Check for breathing and heartbeat, and let those with First Aid training or experience perform CPR. Don't be afraid to touch the victim— they won't retain the electrical charge—but if you have to move them, be careful. If possible, move the victim to safe shelter. Continue first aid measures until professionals arrive.
To read more about Lightning check out these articles:
http://news.nationalgeographic.com/news/2004/06/0623_040623_lightningfacts.html
http://science.howstuffworks.com/nature/natural-disasters/lightning.htm
http://environment.nationalgeographic.com/environment/natural-disasters/lightning-profile/