[caption id="attachment_21301" align="alignright" width="300"]
Columbia plane crash - via CNN[/caption] On November 29, 2016 an airplane crash in Colombia killed 71 people, including 19 players and other staff from the Brazilian soccer team Chapecoense. The few players aboard who survived the crash suffered horrific injuries,
according to The Economist
. The risk of losing players in a mass accident is a nightmare of every major United States sports organization. "All I can say is that, yes, we have a plan," MLB spokesman
Richard Levin told ESPN reporter
Wayne Drehs. "But God forbid it should ever be needed." Still, every major American sports league has a disaster plan in case players are lost. Families and businesses can learn from their plans. Start by developing a disaster plan.
According to ESPN
, the National Football League has a policy giving detailed directions for how to rebuild a team in the event of a "disaster" or "near-disaster." A disaster means an accident in which at least 15 players are lost. A near-disaster means fewer than 15 players are lost.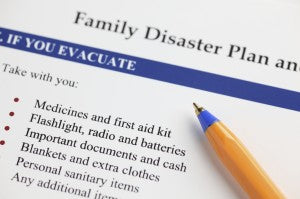 As you're making the plan, write it down. Include directions for many different scenarios: how to evacuate during a fire; sheltering in place during a storm or power outage; emergency contact information for everyone to carry in case of separation. The NFL emergency player replacement policy is codified under Administrative/Business Operations, according to ESPN. In a near-disaster, teams would finish the season, and they would have the highest priority on players waived from other teams. If the quarterback was lost, the team could draft another from a team with three quarterbacks on the roster. In a disaster, the NFL commissioner would decide whether or not to continue the team's season. If so, the near-disaster plan would come into effect. If not, the team would get a restocking draft in the offseason and the first pick in the NFL draft. In Major League Baseball, and other sports leagues, money to rebuild teams would come from disaster insurance,
according to USA Today
.
Federal law requires
people living in certain flood-prone areas to have flood insurance. It's a good idea to have flood insurance anyway, as well as homeowner's or renter's insurance. Insurance is useful for possessions, but caring for and safeguarding people is most important. Chapecoense had captured the hearts of the South American with its Cinderella-like ascent from the fourth division to the first, and its unlikely climb to the final of the Copa Sudamericana, a South American club tournament. (The team members were killed on the way to the tournament's final.) In a city of 180,000 people, 100,000 people filled the stadium for a mass funeral. The South American soccer governing body awarded the Copa Sudamericana trophy and its $2 million prize to Chapecoense. The Brazilian soccer federation added another gift of $1.46 million. Other Brazilian teams offered to loan players for free, and at least one famous player, Eidur Gudjohnsen, offered to join the team,
according to The Economist
.
"First and foremost, the plan must cover the steps needed to protect employees, customers, vendors, visitors and those in the surrounding areas,"
wrote Robert A. Ernst
, a writer and safety expert, in EHS Today, a news organization for health and safety workers in manufacturing, construction and the service industry. In the National Hockey League, if a team lost at least five players, it can rebuild its roster by buying player contracts from other teams, according to its Emergency Rehabilitation Plan
described in USA Today
. If it doesn't get a goalie and 14 skaters, the league will hold a draft of players from other teams. The affected team may get up to two goalies and 18 other players from other teams that didn't sell the team any player contracts. The team can't take more than one player from another team. If at least five players "die or are dismembered," the National Basketball Association calls for a Disaster Draft,
according to ESPN
. Other teams can "protect" five players, and the affected team may pick one unprotected player from other teams, In a disaster, it's vital to work together and rely on others,
Ernst said
. "Remember to contact neighboring businesses when developing your plan. They may have something to offer in the way of support in case of an emergency. In fact, they may be among the first responders to your facility," he said.
Ready.gov recommends
you include an out of area contact for your family, so if communication is out in a disaster area, your family members might still be able to tell someone they're safe. Disaster planning isn't easy. But tragedies like the Chapecoense plane crash can remind sports teams – and families and businesses – that emergency planning will help them recover faster and help people involved.