Anyone who has spun off an icy road knows the dangers of winter driving. But when a family was traveling from Oregon to California,
their trip took a dangerous turn
. [caption id="attachment_21288" align="alignright" width="300"]
The Sanquist family - via Yahoo News[/caption] Following their GPS to reach their destination in the fastest way possible, the Sanquist family found themselves stuck on a snow-covered road. The mother and father were with their 9-year-old daughter and the family dog. They were trapped overnight, but managed to make the trek out for help in the morning. Ron, the husband and father, lamented that cell service was unavailable, and they had no shovel to use in order to dig themselves out. If his two-mile hike in the morning hadn't given him cell service, who knows how much farther he would have had to walk in the snow? Another, similar experience that happened to a couple in Wyoming was even more dangerous. In 2013, Mark Wathke and his wife, Kristine
spent six days in their car
– stuck in a foot of snow – before they were found. Again, they were following their GPS, trying to get to Montana from Yellowstone National Park, when it took them down a highway that is always closed during the winter due to treacherous weather conditions. "We never saw any road-closed sign, any barricades,"
said Kristine
, "[nothing] indicating it was trouble." But trouble there was. All they had in their car was a bit of food for their road trip, and by the time they realized they weren't going anywhere, all that was left was eight pieces of bread, half a jar of jelly, and a few bottles of water. During the nights, temperatures dropped below zero. They put on layers of clothing from their suitcases to stay warm. They even got out a notebook and wrote goodbye letters to their friends and loved ones. Fortunately, on the sixth day, a rancher found them on his snowmobile. He was able to rescue them and see them safely off. Both scenarios show two different groups equally unprepared. Fortunately, both parties eventually got out of their predicaments, but only after a frightening experience. Both groups were regular people, just like you. So what sets you aside as someone who would fare better?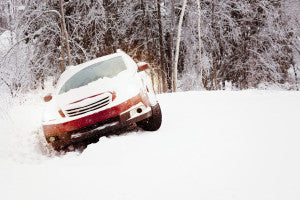 Preparation is one thing. Your trunk should have some sort of emergency kit, consisting of food, water, warmth, and some necessary tools like a radio, whistle, and shovel. These are all items both groups could have benefited from while stuck in the snow. Small, folding shovels tuck nicely into a corner of your trunk. They don't take up much room, but are certainly a welcome companion when you need to dig out your car. Nobody plans on getting stuck in the snow. In both these examples, they were even following directions from their GPS. Even if you think your directions are reliable, don't put yourself in danger if the roads or terrain looks even slightly risky. But above all else, make sure you have the gear you need to survive a lengthy stay in the cold should you Replace yourself in a
similar situation
.