There are some awesome new preparedness supplies in our October catalog that you'll want to know about. These products not only make cooking from food storage easier, but they also make preserving food in your #10 and MyChoice cans even better. Here are my top four new preparedness supplies to watch for:
Universal Cream Sauce and Soup Base (Now on sale for $14.99. Normally priced at $16.50)
Found the perfect recipe, but don't have the condensed soup or cream sauce it calls for? This versatile just-add-water sauce can be used in any recipe that needs cream or condensed soup. You can make Alfredo sauce, enchilada sauce, Thai peanut chicken, soups, gravies, or tater tot casseroles just from one can of this cream sauce base.
>Fruit Crisp and Cereal Combo (Now on sale for $64.99. Normally priced at $83.90)
Use the fruit crisp and cereal combo to create the perfect fall apple, peach, or blackberry crisp. You can even enjoy a bowl of our popular, Cinnamon Almond Granola each morning without even going to the store for a carton of milk (instant nonfat powdered milk is included in the combo!) A definite crowd pleaser and family favorite.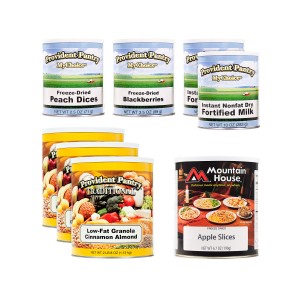 Gossner Brand Milk Cartons (Now on sale purchase a 3-pack for $2.75, or a case of 27 (nine 3-packs) for $20.99)
This milk is SO good. Unlike standard milk bought at the grocery store, these individual 8oz. cartons of milk can last 6-12 months without refrigeration during storage. Comes in a variety of flavors including Rootbeer float (a personal favorite!), cookies and cream, strawberry, chocolate, vanilla, skim, whole, and reduced fat. Great for storing in emergency kits, or to pack in school lunches. Comes in a pack of 3 cartons.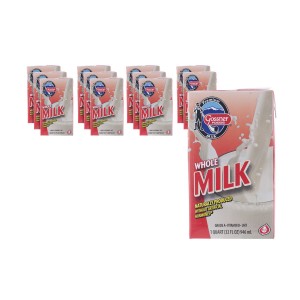 Small Metallized Zip Top bags with Gusseted bottom (Purchase a 10-pack for $8.50)
Have you ever opened a #10 can and wished that there was a better way to keep your food fresh after opening? Problem solved with these gallon-size metallized bags. They're made of the same material as the bags in our Superpails—so they'll help keep out oxygen, light, and moisture.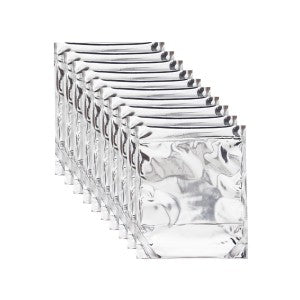 Simply pour the food from your #10 or Mychoice can into this bag and zip the top (just like a freezer bag). Place back into your #10 can and the bag will sit upright in the can because of its gusseted bottom! These bags do a really good job of keeping your food fresh, but you'll still want to pick up some
oxygen absorbers
to go along with them to make sure your food is as fresh as possible. These are my top 4 new products to check out this October. But be sure to check out all of our
New Products
. What are your favorite NEW Emergency Essentials products? --Angela