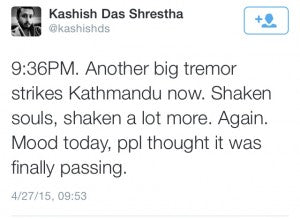 Saturday saw a major earthquake in Nepal. The 7.8 magnitude earthquake has left a death toll of over 4,000. Entire towns have been flattened. With multiple aftershocks still shaking the area, along with landslide in the steep mountain, thousands are still anxious about their safety. On the first night following the Nepal earthquake, thousands of people were left on the street without shelter. In the days since, tent cities are starting to take shape, springing up all over the region, providing at least some form of shelter for those without—shelter that may have to last for weeks, even months. And with aftershocks still rolling, people are staying outdoors in tents to avoid the danger of another collapse.
BBC News reported
on the scene at Kathmandu: [caption id="attachment_18052" align="alignright" width="300"]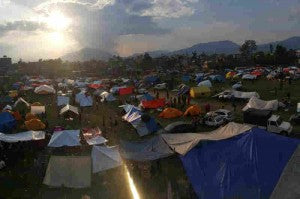 Associated Press[/caption] "Vast tent cities have sprung up in Nepal's capital, Kathmandu, for those displaced or afraid to return to their homes as strong aftershocks continued. Thousands spent Sunday night - their second night - outside." As we've seen in Kathmandu, tents are the go-to for those in the affected areas. And with such wide-spread devastation, how long will they have to remain in these tent cities? Which begs the question, if an earthquake struck
your
area, would you be prepared with shelter for you and your family? Just over a week ago, we at Emergency Essentials participated in The Great Utah Shakeout – an event designed to help people prepare for an earthquake. We set up a shakeout camp which consisted of a variety of tents—from tiny two-man pop-ups, to our premium Barebones cabin tents, to our 450 sq. ft Geo Shelter dome tent, all outfitted with the gear that will help people survive comfortably following a large quake. Those who stopped by our camp enjoyed strolling about our little camp (even though 6 inches of snow was on the ground in the morning hours, followed by 40 MPH winds in the afternoon…an appropriate touch Mother Nature provided to help us illustrate survival in trying conditions). I'll tell you what, I was definitely grateful we had those tents set up, because it was a chilly day. The Barebones tent not only demonstrated the ability withstand all types of conditions, including heavy snowfall and strong winds, but was outfitted with cots, a desk, and even a wood burning stove. The
Barebones Safari Outfitter Tent
can comfortably house up to four people, and through several seasons if necessary. Take a look!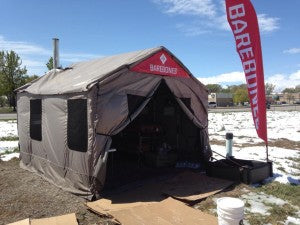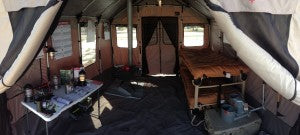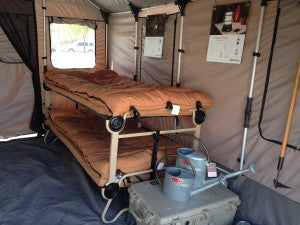 If I were in Kathmandu and forced to Replace a place to live for an indefinite amount of time, this would be right at the top of my list. And, with some alternate energy sources like a
Goal Zero Yeti 1250
or some
solar panels
to provide light and power, this would definitely take some of the pain out of the disaster. The Nepal earthquake shows us how important shelter can be. Fortunately they've had some nice nights, but earthquakes don't always wait for good weather, as our weather on ShakeOut day demonstrated. So, are you prepared with shelter? We hope so. But if not, check out our Barebones tents so when disaster does strike, you'll have the shelter you need to protect you and your family. Barebones Outfitter Safari Tent:
/barebones-safari-outfitter-tent.html
Barebones Little Bighorn Tent: /barebones-little-bighorn-tent.html Shake Out Camp Blog Post:
/blog/17966/shakeout-camp-surviving-well/