With less than 1% of surface water and an average humidity level of 5.4%, Tatooine was a very hostile place to live... [caption id="attachment_18077" align="alignright" width="300"]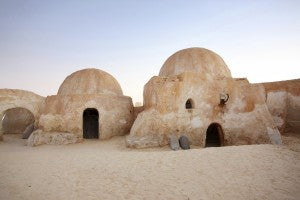 Tatooine[/caption] Compared to Tatooine (the desert planet made famous in Star Wars), California ain't half bad. With an
average humidity level
of 53% during the day and
4.8% of water covering the entire state
, California would feel stiflingly humid for the locals of Tatooine. And that 4.8% area of water is just for the state of California, compared to less than 1% of the entire planet of Tatooine. Yes, compared to Tatooine, California is quite the wetland. But if California is fearing a water shortage, how does a place like Tatooine – with even less water – survive? Water was obviously hard to come by on that Outer Rim planet, but with great drought came great innovation.
Moisture farms
made it possible for life on Tatooine. On these farms,
moisture farmers
would harvest water from the atmosphere. In order to do this,
moisture vaporators
were used. Moisture vaporators are essentially tall, refrigerated pipes, and when hot, moist air came in contact with these pipes, the humidity would condense onto the pipes, turning into water, and would be collected into underground water storage containers for future use. Basically, this is their version of a rain barrel. [caption id="attachment_18078" align="alignright" width="300"]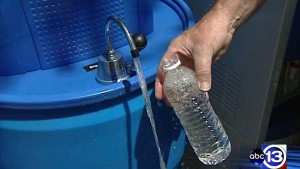 ABC[/caption] Wouldn't it be nice to have something like that? Believe it or not, this type of moisture vaporator actually does exist, and it's even in
our
galaxy, rather than one far, far away. Invented by Terry LeBleu from Texas, his machine pulls in water from the air and turns it into pure drinking water. People need about one gallon of water per day to live comfortably. This includes water from drinking as well as sanitation. Properly maintained, one moisture vaporator on Tatooine can sustain up to three people. LeBleu's version does even better: "Depending on humidity, the machine can make between five to seven gallons of pure water in one day. All you have to do is plug it in, and one gallon costs only 4 cents in electrical charges." This right here proves that Star Wars is real (but let's be honest, we really didn't need proof since we all know it's real anyway). But what about California? They don't have moisture farms (although maybe they should start looking into those), but there are some things people there can do during a drought to help preserve water. The following are a few steps to take to prepare for a drought and help preserve water during one (this goes for all areas, not just California).
Store Water
Just like moisture farmers, we should have ways of storing our own water.
Water reserves
,
water barrels
, jugs, cans, and
pouches
…there are many ways to store water, each with its own benefit. Water reserves and barrels are large and hold a lot of water, but they take up more room. Jugs, cans, and pouches are smaller, so they can fit better in smaller areas, but they hold less water. The point is to have some sort of water storage, so if water does run out for a bit, you'll have some on hand until help can arrive.
Stop Leaks
You may not think a leaky faucet is a big deal, but did you know that if your faucet is dripping one drop per second, you'll be wasting 2,700 gallons every year? The people (and aliens) of Mos Eisley do not approve of such waste. Stop those leaks!
Don't Water Your Lawn So Much
You don't necessarily have to spray paint your lawn green to keep it looking nice (although it is
a tactic some Californians are reverting to
), but do try to cut back on how much water you use to green up your grass. Your lawn only needs to be watered once every 5 days in the summertime, so maybe it's time to put the sprinkler away those days in between. And, in the winter, your lawn only needs a watering every 10 to 14 days. A bonus is if you get a good rain, your grass is good for up to two weeks! Don't overdo it. You don't see Jabba the Hutt using water excessively, and he only cares for himself!
Recycle
Don't waste water if you can Replace another use for it. Excess shower water, for example, can be used to water your plants. Replace ways to capture excess water and use it for other things you'd normally use water for. Star Wars may take place in a galaxy far, far away, but that doesn't mean we can't learn from their drought-ridden planets. Tatooine is in a constant state of drought, and always has been. California is now in their 4
th
year of drought, but if it keeps up the way it is, Tatooine may have a new rival when it comes to arid wastelands. But before California turns into a genuine dust bowl, there are some steps to take to reduce water usage and prepare for even harsher conditions. During times of drought, water is the most valuable resource you have. Take care of it, and it will take care of you. For more information on drought, including articles and essential gear and products, visit
beprepared.com/drought-preparedness
.

Additional Reading: When the Well Runs Dry:
/blog/17715/well-runs-dry/
Don't Doubt the Drought:
/blog/17819/dont-doubt-drought/