If tornadoes, hurricanes, earthquakes, or other natural disasters struck your hometown, would you be prepared to weather the rough days that follow until emergency response teams set up? Unfortunately, many people aren't. A little while ago, we reported on an innovative idea of an inflatable shelter called the
Life Cube
. Responses to this survival shelter ranged from "awesome" to "too pricey". After our initial article, we were interested in the background of the company and the idea of the Life Cube. We called up founders Michael Conner and Nick Pedersen to get additional details about this new way to survive in an emergency. We thought you might be interested in hearing what we found out.
What is the Life Cube?
Conner and Pedersen have created the Life Cube to ultimately provide relief within 24 hours to disaster victims.
The Life Cube inflates into a 12 ft. x 12 ft. "home" fully stocked with food, water, power, a means of communication, and furniture for a family of five to survive for 72 hours. Once set up, the Life Cube is weather-resistant against 40 mph winds without external tie downs, and against 55 mph winds with external tie downs. It can also withstand heavy snow loads—10 lbs. per square inch. And this fully stocked survival shelter only takes about 10-20 minutes to set up. If you're really fast, it could take you as little as five. Check out this video of Conner and Pedersen setting up the Life Cube:
Life Cube LC12 5 Minute Deployment
from
Nick Pedersen
on
Vimeo
.
Why Would I Need the Life Cube?
The first 72 hours can be the hardest to survive as response teams work to set up. "That's the time you're on your own. The Life Cube is to help you in that time," said Pedersen. Take note, however, that it can take much longer than 72 hours for help and supplies to arrive—three days is a minimum. Pedersen recommends that although the Life Cube comes fully stocked, it's never a bad idea to add extra preparedness supplies of your own. Life Cube, Inc. may add supplies such as the
Yeti 1250
and premade food kits for five. But Pedersen's suggestion of storing extra supplies extends beyond adding more preparedness gear to the Life Cube. If you or anyone in your family use medications, wear glasses, or have other specific needs, adding those items to your bug-out-bag will personalize your supplies and provide you with vital items for survival.
What's New?
Over the past few years, Conner and Pedersen have been working to upgrade the quality of the Life Cube.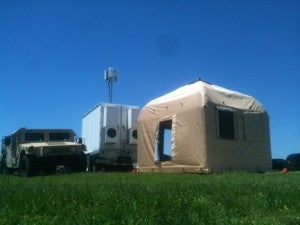 "This year," Pedersen said, "We are introducing a new foam floor with a special coating to make the Life Cube lighter. It'll be about the same price, but cold-weather temperate and even buoyant so it can float." These Life Cubes have been designed to be airdropped anywhere on Earth, so even in the most remote locations, disaster victims won't have to wait for relief. Although the Life Cube is not the end solution, it is a viable option to consider when thinking about disaster relief.
So how did it all begin?
The concept of the Life Cube started in 2005, the year of Hurricane Katrina and the Kashmir earthquake in Pakistan. The survivors of these disasters were dying because they couldn't get the food, water, and equipment they needed to survive. Michael Conner knew something needed to be done; a few napkin sketches were drawn up and the Life Cube was born. Each Life Cube is premade for a particular use, according to Pedersen. They can each be configured to respond to issues ranging from Command and Control/Communications Security to Medical to Decontamination and more. As of now, everything about the Life Cube is Military spec. For consumer products, Pedersen and Conner are working on a "Life Cube Every Man" which works more like a tent. This Life Cube would have the same features as the military-grade one, but at a lower price ($5000-$6000 each rather than $9,000-$15,000). The Life Cube is just in its beginning stages, but Conner and Pedersen have big goals for the future. "Our ultimate goal is to build a cache of units [and] have inventories in strategic locations in the country—and eventually around the world—so we can deploy within 24 hours of a disaster. Having caches would help us deploy in hours instead of days," said Pedersen. In the past,
Life Cube, Inc.
has deployed for FEMA, the military, and the Joplin tornado. Today, Life Cube, Inc. is pursuing partnerships with FEMA, the Red Cross, and the U.S. Army to deploy Life Cubes where needed. They also are looking into pursuing municipalities. If caches of Life Cubes were placed in various cities, then local officials could deploy them immediately after a disaster strikes—without waiting for Federal Aid approvals or third-party organizations. What do you think about the Life Cube? Would you ever buy one? Do you think it's a realistic solution? Not quite your style? Learn how to put together your own all-in-one portable shelter solution by reading our article, "
How to Build your Own All-in-Four Portable Shelter
." --Kim Sources: "Life Cube Sheltered Delivery System Brochure.pdf" Interview with Nick Pedersen