Round here, at what some like to call the "North Pole" Santa's little helpers are getting pretty stoked about the coming holidays. In fact, try as we might, we haven't been able to restrain them from singing carols and obsessively checking the Naughty/Nice list. The bad news? Reindeer droppings in the office. The good news? Early deals on great gift ideas. Two of our favorites are the holiday gift combos. No wrapping paper? No time? No problem. These little babies come with 10-12 gifts, along with the same number of gift bags and bows. You can have the perfect little present assembled in seconds, with zero time spent hunting through red and green bins for bits of ribbon or tissue paper. Buy in bulk and you can check neighbors, teachers, co-workers, the bus driver, and the mail lady all off your gift list in one fell swoop. Genius! Right now, we've got two holiday gift combos available. Get one of each, and spread twice the Christmas cheer!
Hotspots Holiday Gift Combo
Caroling, sledding, snowball battles—all our favorite winter outdoor activities are more fun when we can feel our fingers. Give the gift of warmth with 10 [Hotspot heat packs]. The packs are reusable and stay warm for up to two hours. Great for emergency storage and seasonal use—and the cheery color scheme looks so festive with our transparent gift bags and bright green bows! The Hotspots Holiday Gift Combo comes with 10 Hotspot heat packs, 10 gifts bags, and 10 holiday bows—each gift only coming to about $2.50!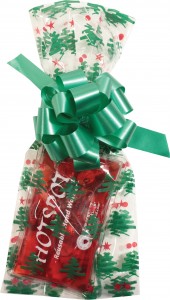 Emergency Candle Gift Combo
Need something a bit more substantial? How about 100 hours of peace of mind for that special someone? These smokeless, odorless emergency candles not only look snazzy in red, but lend themselves to all sorts of sentimental metaphors ("light of my life," "you light my way," "I'll be your candle on the water…") (Too much?). A thoughtful gift that can be used in an emergency or for every day, the candle gift combo comes with 12 candles, 12 gift bags, and 12 bows—and it's currently more than 40% off the regular price! Each one of these candle gifts you give your loved one only costs you about $4.20.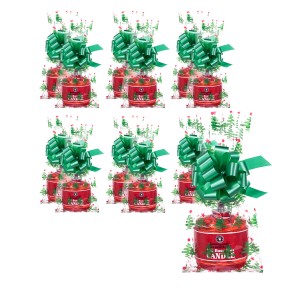 We'll keep you posted as more fantastic gift-giving deals become available…but right now, there's an elf stuck in the Xerox.