Guest post by Emily Long
There's a new disaster response strategy in town, and it relies on information crowdsourced from the digital tools you use every single day. [caption id="attachment_17855" align="alignright" width="300"]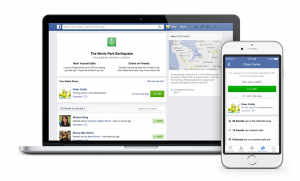 Facebook's Safety Check is one way crowdsourcing is used for crisis management.[/caption] Crowdsourcing, in its simplest form, is distributed problem solving. It harnesses the power of individuals connected across digital platforms to create a bigger picture, launch new initiatives, or Replace solutions. Wikipedia is probably the best-known example of crowdsourcing. When it comes to crisis management, crowdsourcing can be done on a local level—asking citizens to report in via text, internet, social media—or globally by connecting with other agencies around the world to offer insight from their own disaster preparedness and response efforts. Crowdsourced data has played a pivotal role in recent high-profile disaster response cases. After a 7.0 magnitude earthquake hit Haiti in 2010, crowdsourcing organizations quickly came together to offer on-the-ground relief and resources. The
Mission 4636
initiative provided over 85% of Haitians with SMS capabilities that simulated a traditional 911 service. Haitians could send calls for help via text and social media, and those requests were translated, mapped, and relayed to relief workers for response. In addition, millions of dollars were raised through SMS to support recovery efforts. When flooding spread across Colorado in 2013, local emergency management officials set up a website for people to upload pictures of damage to their property. This decreased the time it took authorities to assess conditions, determine whether the area reached the threshold for federal assistance, and prioritize responses. Crowdsourcing has also been used in
Nepal
,
Ecuador
, and various natural disasters in the United States, and it is commonly employed in response to security threats and terrorist attacks via Facebook's Safety Check tool. While there are platforms built specifically for emergency reporting—the FEMA app's
Disaster Reporter
, for example—the tools we use every day are key to crowdsourcing disaster response. Twitter and Facebook can be used to transmit, aggregate, and verify information with hashtags and replies as well as to dispel rumors. This data along with e-mail, text messages, and web reports can be collected, mapped, and responded to in real-time via applications like
Ushahidi
. Google Docs has been used to share information and coordinate volunteer forces, while Indiegogo has crowdsourced fundraising efforts for disaster relief.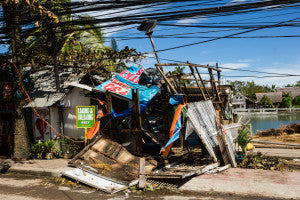 These developments could be life-saving, literally, for communities around the world that lack the infrastructure to support extensive relief efforts. For example,
accurate mapping is crucial
to timely response, yet existing maps in many places are rough or out of date at best and nonexistent at worst. With citizen-driven mapping projects, what used to take weeks to complete can now be done in hours.
Research suggests
that crowdsourcing is quickly overtaking traditional emergency response strategies. Platforms that didn't exist five or ten years ago are now the primary means of communication around the world and continue to be made more accessible. Crowdsourced information, combined with technical data collected about a given emergency, can be used to improve situational awareness, decrease response time, and even
build models
for addressing future disasters.
Anyone can participate
in these digital humanitarian efforts. Crowdsourcing can also benefit our own families and communities, whether that involves using social media to share severe weather news or
crowdsourced GPS tracking
to locate missing children. After all, crowdsourcing can boost preparedness for the times when we least expect to need it.
Emily Long is a safety expert from SafeWise. She is passionate about promoting safe and healthy habits for day-to-day living. When she isn't writing about safety and well-being, she can be found teaching yoga, road tripping, or hiking in the mountains.