As Hurricane Matthew roared toward Florida in October 2016, Waffle House, a southeastern U.S.-based restaurant chain, announced it was preemptively closing almost 100 of its restaurants. "GOD IN HEAVEN THIS IS THE END!!!!!!!!!"
one tweeter responded
. "Now this is a crisis!" another added. [caption id="attachment_21779" align="alignright" width="300"]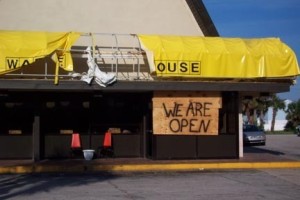 What's a little collateral damage? Waffle House is open for business! - Photo via Science of the South[/caption] Histrionics aside, Twitter users had a point. Waffle House restaurants advertise that they never close, and they almost never do. In fact, the Federal Emergency Management Agency uses an unofficial Waffle House Index to judge the severity of storm damage. Officials call restaurants in the affected area after a disaster. Green means the restaurant has electricity and is serving a full menu,
according to EHS Today
, a risk management publication. A partial menu warrants a Yellow rating, which suggests low food supplies or no electricity. If a Waffle House is closed, it's Red. "If you get there and the Waffle House is closed? That's really bad. That's where you go to work." former FEMA director Craig Fugate
told The Wall Street Journal
. This year's Atlantic hurricane season, which started June 1, is likely to have more storms than usual,
according to the National Oceanic and Atmospheric Administration
. Forecasters predict a 70 percent chance there will be at least 11 to 17 named storms (tropical storms and hurricanes). An average season has 12. So, do what Waffle House does. Make a communication plan. Waffle House employees get a storm key fob with important phone numbers,
according to a story in fivethirtyeight.com
. They're told to tell a manager their evacuation plan and call to check in as soon as the storm passes. Managers keep track of employees who might need extra help because they're single parents or are caring for disabled family members. And, of course, the communication plan invites employees to come in to work as soon as possible because "we will be very busy and you will make lots of money." Make sure all your family members carry several emergency contact numbers, including an out-of-area one. Make an evacuation and transportation plan. Waffle House keeps IT staff, food safety experts, and public relations people in a temporary staging area just outside the storm zone. It even has a mobile command center,
according to the Miami Herald
. Waffle House arranges for employee volunteers to stay nearby so they can immediately come in and help where needed. When employees return, each restaurant has a
storm handbook
that tells employees how to open the restaurant with limited resources. It tells what to serve if the restaurant is out of some menu items, has no power, or has no running water. The company fills nearby temporary warehouses with food, drinks, paper products, and equipment like generators. It hires carpenters. It can even bring in Port-a-Potties,
according to fivethirtyeight
. [caption id="attachment_21780" align="alignright" width="300"]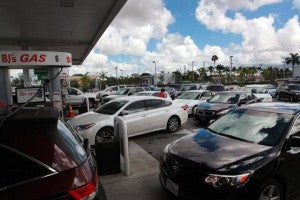 Long lines for gas as Hurricane Matthew approached - Photo via Miami Herald[/caption] As people evacuated seacoast homes and barrier islands before Hurricane Matthew, they found long lines at gas stations—if the pumps weren't dry. Yet Florida Gov.
Rick Scott said the state had fuel
for almost a week. "We don't have a shortage of fuel,"
Scott told USA Today
. "We have a shortage of how fast we get it to stations when they sell out of their fuel." He asked evacuees to only take what they needed and top off later. Ready.gov recommends keeping the gas tank at least half full even if you aren't going anywhere, in case you need to use your car's battery to recharge electronics or its air conditioning to keep cool. Evacuees from Hurricane Matthew also didn't know what to bring to shelters,
shelter managers told USA Today
. Some shelters warned people to bring air mattresses and bedding because none was provided. Yet when evacuation time came, many from the east side of the state drove to the west side seeking hotel rooms but found them full. "So they're coming to our shelters now—and they're coming to our shelters without anything," Bene Hunter, American Red Cross disaster program specialist for Central Florida
told USA Today
. Many also didn't pre-register. Most shelters don't allow pets and some can't accommodate people with special needs. USA Today reported that in Volusia County, Fla., out of 365 special-needs people who went to shelters,
only 19 pre-registered
. The manager said the shelters need to better plan to handle homeless people and pets, and have more medical resources like oxygen available. Do you know where your local storm shelters are? Do you have alternate ways to get there? If you evacuate, do family members and emergency contacts know where you're going? Keep an up-to-date emergency kit with food,
at least three gallons
of water per person, clothes, and bedding. Make sure you've got family-specific supplies like medicine and diapers. Waffle House's biggest concern after a disaster is getting people back to work,
according to fivethirtyeight
. "If we don't have people, we can't open up,"
Vice President Pat Warner told fivethirtyeight
. Things are replaceable; family members and pets aren't. Follow the example of Waffle House and protect your family this hurricane season.