If you were lost in the wild without any clean water to drink, making your own solar still could be a great way to get clean water until you can get back to civilization. But what
is
a solar still? A Solar still is a method of distilling (cleaning) water, using the heat of the sun to evaporate water from soil. Functionally, you're turning the water from the soil into vapor, and then you collect the condensation to drink. Solar stills can range solar ovens to using a simple tarp over a hole in the ground.
Distillation does a good job of removing many contaminants and pathogens. It removes dirt, bacteria, viruses, and protozoa. It also removes metals such as lead, copper, and sodium. Distilling removes many things you are likely to Replace in the water,
but not all
. If something vaporizes at a lower temperature than water e.g. alcohol or gasoline, it will come out in the distillate. This means that distillation is not going to be useful for chemical contamination, especially in a do it yourself situation.
DIY Solar Still Instructions
Here's what I did and what I learned when I made my own solar still. I decided to try a couple techniques for making a solar still that could apply in two different situations. Both techniques use the same materials.
Materials:
The Sun Bowl (about 12 inches in diameter, preferably larger) Mug or Plastic container (think Tupperware) Plastic Wrap or Sheeting A Weight (a rock, brick, box—anything heavy you can Replace to hold down the plastic wrap down) Shovel (or a tool or rock that can dig a hole) Plant Material (shrubs, grass, leaves, etc.)
Solar Still #1: Coffee-Mug Still
For the first one, I assumed a situation such as an earthquake or flood that leaves you in your home (sheltering in place), but causes a disruption in utilities. While normally you would have safe drinking water stored, in the event that you don't—or it somehow became contaminated, you may need to make a simple solar still.
What I did:
I put salt water in a bowl that is about 12 inches in diameter. I then put a coffee mug in the center of the bowl. I placed the bowl on a table, directly in the sunlight.
I covered the bowl in plastic wrap and put a weight on the center above the mug to direct the condensation toward the mug. All that was left was to put it in the sun and wait.
The contaminated water went into the bowl, then the condensation on the plastic wrap drips into an empty mug in the center, filling it with clean water.
This method worked, but there were a couple major shortcomings. The first time I tried it, the sky clouded up and I was rewarded with only a few drops of water for a whole day of waiting. The next try was better, but a day of sunlight still only yielded about one quarter cup fresh water. This would require a lot of bowls if you were relying on it for drinking water. I think an increase in surface area would make a big difference in how much water is produced.
Solar Still #2: Pit-Style Solar Still
The second method I used was more of a survival technique. You might use this type of solar still if you have to evacuate your home in an emergency and live off the land.
What I did:
I dug a shallow hole in my garden about 3 feet in diameter.
I then filled the hole with plant material and placed a water collection cup in the center.
Similar to the set-up described above, I once again covered the collection cup in a plastic sheet.
I then placed a rock in the center to cause the condensate to run to the middle and drip into my collector cup.
I did this on a hot sunny day, for the entire day, and collected around one third of a cup of water.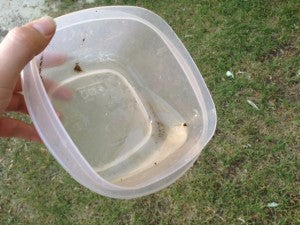 What I learned
The second method is energy intensive, both in terms of physical labor and in terms of the energy required to vaporize the water. If you're in a survival situation, you may want to weigh the outcome: the work required may not be worth the water produced. If you're on the brink of dehydration, any amount of water could help you, so making a pit-style solar still could be well-worth it to you then. The Solar Still is a little tricky to get right, as well. The clouds completely ruined my first attempt. On my second attempt I managed to get water, but it was disappointingly full of dirt from the plants I was putting in the pit. Given the right situation, however, I can imagine this process being fairly useful. In a beach, swamp, or marshy area, the pit-style still would continually recharge with water from the soil. It would work passively and could be fairly productive. Since there's so little water produced from the solar still, it's important to use more than one method of water collection to make sure you have enough water to keep yourself hydrated. Check out the post "Replaceing Water in the Wild" for more water collection techniques to try out.