The hottest year on record, 2015, showed the need to prepare for a wide variety of disasters. Here are a dozen, and one way to prepare for each. In January, a measles outbreak that started at Disneyland over the winter break spread to 14 states, infecting 117 people,
according to USA Today
. It started a national discussion about whether or not to vaccinate. It also served as a reminder: An epidemic can start anywhere and spread everywhere.
How to prepare
: Make sure to keep medicine on hand, says ready.gov. This includes nonprescription drugs like pain relievers, stomach settlers and cold medicines, as well as fluids with electrolytes and vitamins. If possible get enough prescription medication to ensure a continuous supply.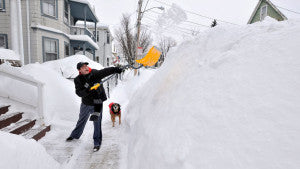 January was almost over when an
historic snowstorm
clobbered the northeast. The storm, which began January 26, brought more than 30 inches of snow to at least 54 locations from Long Island, N.Y., to Maine, according to weather.com. It also brought blizzards and flooding. And it was only the beginning. Through mid-March, storm after storm after storm slammed New England. Boston basically shut down when too much snow clogged transportation arteries. The city eventually recorded a record 110.6 inches of snow for the season.
One organization estimated
Massachusetts alone lost $1 billion in wages and profits, and the school year stretched until the end of June. With the snow came
near-record cold
. At least six cities had their coldest February recorded. Hundreds of daily temperature records also fell. The cold was fatal for 28 people in seven states, according to NOAA's storm data reported in weather.com.
How to prepare
: Get snow removal equipment, says ready.gov. Get products to melt ice on walkways, sand and snow removal equipment. Andrew Thimmig, who lived in a suburb of Boston during the winter, said get more than one snow shovel – because if the snow's heavy enough, one will break. In March, NOAA climatologists announced El Ni
ñ
o's arrival. This recurring climate phenomenon, characterized by warmer-than-normal water off the equatorial coast of South America, strengthened by December into one of the three strongest on record. El Ni
ñ
o can change weather patterns all over the world. In the United States, it often brings especially rainy weather to the southwest and southeast, and warmer weather to the northern plains and northeast.
How to prepare
: Follow the forecasts. If you live in a state like California that tends to see flooding during an El Ni
ñ
o year, consider flood insurance.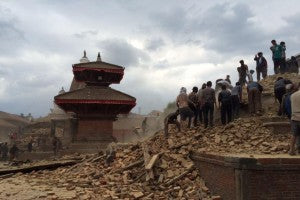 On April 25, a
magnitude 7.8 earthquake
struck Nepal. The quake and its aftershocks damaged or destroyed almost 900,000 buildings in the capital of Kathmandu and the surrounding regions,
according to one report
. It also
triggered an avalanche on Mt. Everest
that killed 19 people.
At least 2,100 people died
.
How to prepare
: Look around your home. Are mirrors, pictures and heavy furniture secured to the wall? If not, look for kits to do so. Home furnishings store IKEA provides free mounting kits for its larger furniture. May brought heavy flooding to the plains and southeast. DeWitt, Neb., was evacuated and most of it flooded in a May 6-7 storm. A storm that brought massive flash floods over the Memorial Day weekend
killed at least 23 people
in three states. In total, at least 40 people died.
How to prepare
: Have a disaster kit ready to grab and go. Emergency Essentials sells several or build your own. Instructions for one are at
ready.gov
.
The California drought
was big news over the summer, after an April 1 snow survey found bare ground in the Sierra Nevada mountain range for the first time.
Drought and heat also dominated the discussion
in the northwest, which saw June and July temperatures more appropriate for Death Valley, Calif. On July 9, three towns in Washington state tied Death Valley's 104-degree high, according to weather.com Ten days later, another Washington town hit 107 degrees. At least four deaths in Oregon were
attributed to the heat
.
How to prepare
: Know first aid. The U.S. Centers for Disease Control site has this list of symptoms for heat-related illnesses and
directions for treating them
. In July, the remnant of Hurricane Dolores in the Pacific brought "super historic" rainfall to southern California,
according to weather.com
. Interstate 10 closed when a bridge collapsed near Desert Center, Calif., and the San Diego Padres saw their first home rainout since 2006.
How to prepare
: Be ready when you travel. Keep your car's gas tank at least half full in case you get stopped on the road or have to make a detour. [caption id="attachment_18485" align="alignright" width="300"]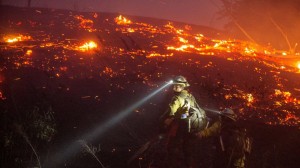 via ABC News[/caption] July and August saw more than 70 major wildfires in the (mostly) parched west,
according to ABC News
. The Valley Fire in Northern California burned more than 76,000 acres and destroyed 1,281 homes,
according to weather.com
.
Six people died
from fires in California and three more in Washington.
How to prepare
: Have vital information ready to go. A woman who saw the Wenatchee Fire in Washington said some people had just five minutes to evacuate. FEMA provides an Emergency Financial First Aid Kit to help identify records to keep safe.
It's available here
. [caption id="attachment_18858" align="alignright" width="300"]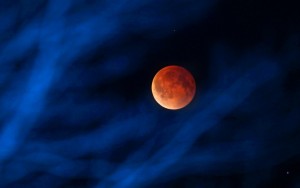 Blood Moon - via Washington Post[/caption] It wasn't a disaster, but it's been considered a harbinger of one. On September 27,
a supermoon eclipse
briefly turned the moon red for much of the western hemisphere. The next time we'll see such a phenomenon is 2033.
How to prepare
: Reminders to prepare occur daily, whenever there's another natural disaster story in the news. Just start preparing. Pick up one thing you need and slowly build up your emergency prep. If you already have an emergency kit, take a half hour to see if it's up to date. It doesn't take much time or money if you prepare in small bits. Hurricane Patricia surprised everyone when it exploded from a tropical storm to a Category 5 hurricane October 22-23,
according to weather.com
. Equally surprising was its collapse shortly after landfall Mexico. No one died in the hurricane itself. However, its soggy aftermath added more rainfall to record flooding in the southeastern U.S. An October 10 storm had poured up to 15 inches on parts of South Carolina in 24 hours, causing widespread flooding and 19 deaths. Up to 160,000 homes may have been damaged.
How to prepare
: Know where to go in case you must evacuate. Know where local emergency shelters will be and have primary and alternate routes, suggests ready.gov. Never drive on a flooded road. A windstorm on November 17 killed three people and left
more than a million without power
in the Pacific Northwest. Spokane International Airport recorded record wind gusts of 71 miles per hour. The wind toppled trees and power poles and damaged buildings. Power was not entirely restored for 10 days.
How to prepare
: Keep electronic equipment charged. Emergency Essentials sells emergency chargers. This week, a winter storm,
appropriately named Goliath
by weather.com, brought 10 foot snowdrifts to New Mexico, tornadoes to Texas and massive flooding through the central and eastern U.S. So far, 43 people have died.
How to prepare
: Natural disasters can cause damage over a large area. Ready.gov recommends having emergency contact information for someone in another state in case of widespread damage in your area. Make sure family members know the out-of-state contact person's information. And these were just the big headliners of the year. Of course, many things can transpire throughout the year. If we've learned anything from 2015, it's that the unexpected can and most certainly will happen. We can't predict everything, but we sure can be prepared for it! Have a safe, prepared 2016!
That's our year in review! How did 2015 effect you?