Floods are generally considered to deadliest natural disaster on earth. The worst flood recorded is known as the 1931 China floods, in which up to 4 million people were killed. As devastating as this was, there was another – even worse – event.
Beginning in January of 1918, an outbreak of the flu infected 500 million people and took the lives of 50-100 million. The effects of this Spanish flu (as it was called) came on very fast.
According to flu.gov
, "people felt fine in the morning but died by nightfall." Up to 40% of the world's population was effected by this pandemic. In the United States alone, over half a million people died from this flu pandemic. Big cities suffered the worst of it, but even small communities
incapacitated so many people
that entire towns had to virtually shut down. Things weren't good, to say the least. This wasn't the only time the world was devastated by disease. Ignoring other pandemics (such as the black plague, cholera, etc.), the flu has had a devastating effect on the world's population.
According to The Weather Network
, "four major flu pandemics have spread across the earth" in the last 100 years (1918-1919, 1957-1958, 1968-1969, and 2009-2010). According to math and deduction, that means you've most likely been around for at least one of these pandemics, and quite possibly more. Apart from those major outbreaks, there have been plenty of other smaller outbreaks that still effected many, many people. As mentioned in a previous post about fashionable face masks, surgical masks have become widely used in many Asian cities to protect themselves from high levels of pollution. When it comes to staying healthy amidst airborne illness, such a strategy may also prove helpful. [caption id="attachment_19747" align="alignright" width="300"]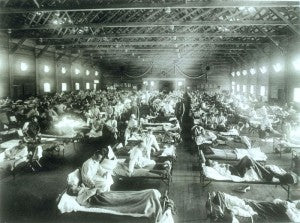 "Camp Funston, KS - Influenza Hospital" by U.S. Army photographer[/caption] When flu season comes around (which is in full swing, as of this posting), be sure you take
proper precautions
. Frequently wash your hands with soap and water. Stay home from work or school if you have flu symptoms. Cover your mouth when you sneeze. And of course, having a flu shot can't hurt, either. I'll be posting a few more articles about preparing for the flu, so check back here to our blog next week when I'll discuss flu vaccines.
How do you prepare for flu season? Let us know in the comments!

a Rafflecopter giveaway