Happy New Year? More like Happy Flu Season. Flu season can begin anywhere from October to May, but usually peaks in January, according to the Centers for Disease Control and Prevention. That puts us smack dab in the middle of it, and while it started off slowly, there's still time to get infected. Fortunately, there is a special way to avoid the feverish flu. Vaccines. [caption id="attachment_19772" align="alignright" width="300"]
Nurses tend flu patients in Oakland, 1918[/caption] The flu is actually a very serious disease that can land you in a hospital, or even terminate your life. Think back to some of the major flu epidemics of our time. 50 million people died during the Spanish flu epidemic of 1918-1919. During the 1956-1958 flu season, about nearly 70,000 people in the United States died from the flu. And, in 2009-2010, the
CDC estimated
43 million to 89 million people had H1N1  [a strain of the flu disease] between April 2009 and April 2010." Up to 18,300 people were killed due to the H1N1 virus. As you can see, the flu is a dangerous disease. It also comes around every year. Each year is different, too, which is why it's important to get a new vaccine annually. By receiving these vaccines, you are helping your body fight off the virus before it can take root in your system. Basically, getting vaccinated can save lives. Vaccines work by helping your immune system build up antibodies. Antibodies are basically little armed guards inside your system, fighting off the invading flu forces. Just like any good defense, the more guards you have, the better your chances of fighting off the invaders.
According to the CDC
, "everyone 6 months of age and older should get a flu vaccine every season." Following a vaccine, it will take about two weeks for the antibodies to be ready to protect your body, so be sure to get that vaccine as soon as possible, preferably at the beginning of flu season.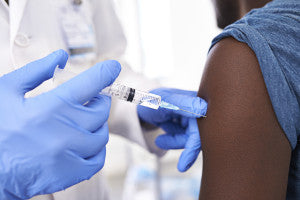 If you're thinking, "Wait, what? I need a new shot every
year
?" then let me explain. There's a reason for this. Two, actually. As it turns out, vaccines wear off over time. Basically, the guards created by the vaccine retire, are on vacation, or otherwise MIA. The immune system needs to be boosted annually to make up for these declining numbers. The other reason is because of the constant state of flux of the flu virus. It's always changing, so in order to be on top if your game, you'll need an updated version of the vaccine. These vaccines are an important part of healthy living. However, just because you received the vaccine doesn't mean you still can't get sick. There are other factors that come in to play, including age and health of each individual. That being said, receiving the vaccine will still provide a much needed boost of your immune system that will still help protect and prevent flu-related symptoms and conditions. If you haven't yet received your vaccination for this flu season, consider doing so right away. We are, after all, at the peak of flu season. Do your part to protect your body and your health.