By Melissa Rivera
The July 29 security breach at Equifax put personal, immutable details about almost two-thirds of American adults at risk. Including my husband and, by extension, mine. If you haven't checked on your information by the way, stop what you're doing right now, and go to this address at Equifax. Even if it says you probably weren't affected, suspect you may have been,
this New York Times story suggests
. Yet my husband isn't that worried about identity theft. I chalk that up in part to his ridiculous optimism. But for many years he's been taking steps to monitor his credit that might at least mitigate attempts at fraud. He has multiple credit monitors and actually pays attention to them. He is enrolled in
Credit Karma
and another credit monitor through his work. This way, he can quickly Replace and dispute any questionable information on his credit report. Possibly because he monitors his credit and bank statements, he has experience fighting financial companies. At one point, he couldn't get a car loan because a government agency had declared him deceased. He had to prove he was alive. Last year, he had to fight a credit card company because its computer system overcharged him for several purchases. It's not fun, but at least he knows the forms to fill out. He requests credit reports from all bureaus yearly. Everyone may request one free credit report per year from all three credit bureaus:
Equifax
,
TransUnion
, and
Experian
. Ann House, coordinator of the Personal Money Management Center at the University of Utah, recommends spreading out your credit report requests throughout the year. For example, you'd request one from Equifax in February, one from TransUnion in June and one from Experian in October, That way, you have more time to look through each credit report and you can note changes throughout the year. Our family bank accounts have fraud alerts so they won't let us make suspicious purchases. That was annoying a few days ago when I was trying to withdraw a large sum of cash to pay for movers to unload our things to our new home. Our bank locked our account because the request was from a different state than usual and because it was larger than normal. I spent at least a half hour on the phone with the bank trying to get them to recognize me and then unfreeze our account. In retrospect, it was worth it. We'd be the first to admit we're not paragons of protection, though. We're planning to do a few things better. In addition to our accounts' fraud alerts, we want to set up fraud alerts with
each of the credit reporting agencies
. With a fraud alert, the credit agency should contact us if anyone tries to apply for credit in our name. Be aware, however, that you have to
renew fraud alerts every 90 days
. [caption id="attachment_22116" align="alignright" width="300"]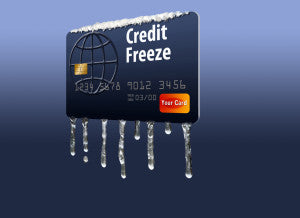 Credit Freeze Equifax[/caption] Consider freezing your credit. A credit freeze means that credit bureaus are not allowed to release your information to any company you're not already working with. For example, if someone tried to open an account with your information, the financial institution wouldn't be able to access your credit report. There are disadvantages to a credit freeze. It's time-consuming, both to activate a credit freeze and temporarily deactivate it,
according to this story in the Wall Street Journal
. You have to put a credit freeze into place for each individual with each credit bureau. It costs money to activate a freeze, and every time you want to temporarily deactivate it, say, if you want a new cell phone plan,
you may have to pay a fee
. The good news is, Equifax is temporarily foregoing the fee,
according to the New York Times
. Finally, take control of your information as much as possible. Go to the
Social Security Administration web site
and create an account, then protect it as much as possible. Do the same thing with the
Internal Revenue Service
. Now all you have to do is keep a close watch on your medical bills to ensure no one is using your name to get health care, closely review every financial statement, and file taxes early to be sure no one is filing in your name. Hmmm, maybe my husband should be a bit more concerned.
Melissa Rivera is a jack-of-all-trades who is master of none. She has been a writer and editor for more than 15 years.