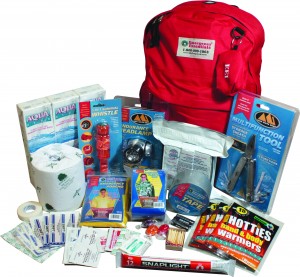 If you're just getting started in
preparedness
, one of the
first things
you'll need to think about is an
emergency kit
(or
bug out bag
). Check out the article (plus a video) linked below, where Matt talks about his first efforts with an emergency kit and the importance of customizing it to your needs.
As I dug deeper into the topic and began assembling things I needed for the BOB (as well as Bug-IN supplies for home) it all just made sense. While Armageddon may not be at hand there are other considerations. Being stranded in a blizzard, evacuating from other natural disasters, civil unrest, deciding to get out of Dodge if some pandemic is beginning are just some of life's cheery possibilities. [Click here to read the rest of the article "Bug Out Bag Info, & Why to Have One."]
And while you're thinking about an emergency kit, check out our
emergency kit checklist
,
our options for
pre-assembled emergency kits
, and the
essential gear
we sell separately so it's easy for you to customize a kit or build your own from scratch
.