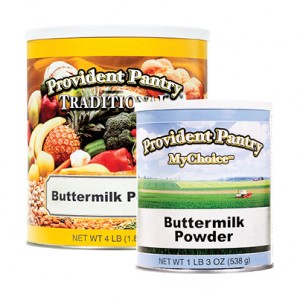 Why I buy MY CHOICE products:
"You may ask WHY I'd want to buy smaller containers of food storage products. For me, it's an easy question to answer for many reasons, including that there are only two of us left at home. I am relatively new to long-term food storage. We've opened several of the #10 cans and it's taken us more than a year to use up the products -- like onions, peanut butter, dry milk and carrots. Based on that, I haven't opened or experimented with
butter powder
,
dried eggs
or
egg whites
or
tomato powder
. I figured we'd end up with half the stuff being unusable a few months after opening because we couldn't use it fast enough. "I just bought a can of MY CHOICE
butter powder
for the sole purpose of opening and experimenting with it. Though smaller than a #10, these cans are a generous size, and the butter powder is fabulous! I first diluted it too much so it was soupy, but I was adding it to rice during cooking, so that was no problem. It made the rice taste so much better! Truly buttery. My next experiment was on hot biscuits. For these, I actually followed the directions on the can. My re-hydrated butter was delicious and melted inside the hot biscuits just like regular butter-- something I was very skeptical about before. Good bye to butter in my freezer! "This experience has me excited to try other products. I'll also change some of my food storage decisions, for example now that I understand butter powder, I'll increase the number of both MY CHOICE butter cans and the #10 cans. The second decison is to buy some of the new November MY CHOICE items including the
tomato powder
,
egg whites
,
egg powder
and
chopped onions
next. The tomato powder and egg products are for me to practice using in daily recipes. "I'll buy the onions because it took me 18 months to go through a #10 can. I'm now hooked on the canned product but don't want to open the big can. I prefer these 'expensive' canned onions. Turns out that when I buy fresh onions, I end up with about 20% waste because we don't use them fast enough. About 80 percent of my onion use is for chopped onion, so now I have the item available and only buy fresh onions when a recipe requires whole onions or onion slices. For me, it's less expensive and more convenient to buy and use the canned chopped onions. The rehydrated onions cook exactly like fresh -- I saute, brown, sweat them and they are wonderful. A side benefit is that they don't make you cry!! "I'm looking forward to additional
MY CHOICE
products soon (I hope), like cheeses, other vegetables and even meat products so that I can increase my capabilites and skill at using my long-term food storage without having to needlessly open a whole # 10. MY CHOICE will also help me build my skills to use the product in the #10 cans more quickly and effectively as we rotate them or need them during emergency situations."
Gretchen
Arizona