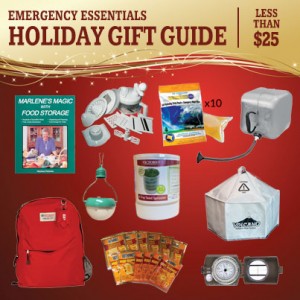 "Christmas is coming, and the goose is getting fat," goes the old song—or maybe it should be "Christmas is coming, and the days are flying fast!" When I was a kid, Christmas took forever to arrive, but now the days between October 25 and December 25 seem to telescope into a blur. We're already well into November and holiday shopping is in full swing. Doing our best to help you out with yours, we offer here some fun and practical holiday gift ideas that fit into the $10 to $25 range of your budget:
Warmth Emergency Kit--$14.92
For those on your list who are all-weather campers, winter sports enthusiasts, or faithful football game attendees, this gift is ideal to keep them warm. With 6 Hand and Body Warmers, 4 Adhesive Body Warmers, and 2 Hand Warmers, your gang will be toasty no matter the weather. This holiday gift is also nice for just walkin' in the winter wonderland!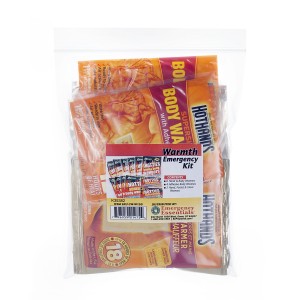 4-Tray Seed Sprouter -- $13.95
Know a frustrated gardener who's waiting impatiently for spring? Give the gift of indoor gardening all year long with our 4-Tray Seed Sprouter. Perhaps couple it with a copy of
The Sprouting Book
by Ann Wigmore on sale during November for only $10.99 (regularly $11.95)—or a 1 lb. packet of "Savory Salad" Organic Sprouting Seeds for $6.50.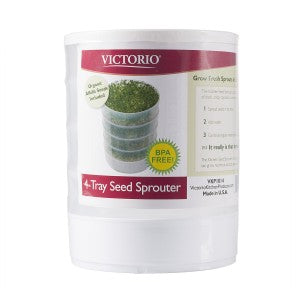 Extra Large Backpack-- $16.99
This holiday gift could be very useful to get someone started on their prepping by encouraging them to fill it with food, water, first-aid supplies, tools, and more for a bug-out bag (72-hour kit, emergency evacuation kit, etc.) Or they might want to use it for a car emergency kit, with tools and supplies for road emergencies.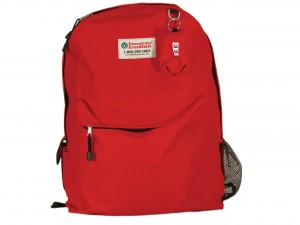 ASAP™ Silver Solution--$28.99
Give the gift of enhanced health with this safe, bacteria-killing liquid that boosts the immune system and helps fight off sickness and disease. Silver has long been used by doctors and hospitals to prevent infection and aid healing. More effective than traditional colloidal silver, this solution is useful for both children and adults in fighting off bacterial infections of all kinds. It may be silver, but as one happy customer puts it, it's "worth its weight in gold!"
Kitchen Plus™ 2000 Hand-Powered Food Processor-- $16.95
Practically any cook would be delighted to have this food processor in their kitchen anytime, and not only when the power is out. This handy appliance has dozens of functions, including whipping, beating, chopping, slicing, grating, citrus-juicing, and more. It's easy to use, with rustproof, stainless steel blades and a safety handle to protect fingers. Rave reviews from customers mention the versatility of the food processor in using it to make salsa or hash browns.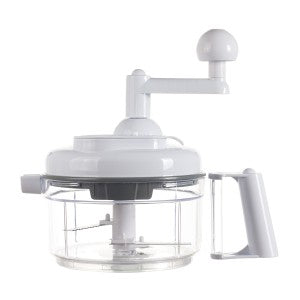 Marlene's Magic Food Storage Book--$24.95
Do you know someone who's new to food storage, and seems a little bewildered about what to do with all those cans and pails? Give the gift of knowledge this holiday season with Marlene Peterson's 260-page cookbook,
Marlene's Magic Food Storage Book
. Full of easy to prepare recipes such as English muffins, homemade noodles, cottage cheese, tortellini shells, and much more. This book gets great reviews from customers—even those who don't like to cook.
Nokero™ N200 Solar Powered Light--$19.99
Give everyone the gift of light for a time of darkness with this high-efficiency, portable, solar-powered light bulb. Once fully charged with its built-in solar panel, it provides six-plus hours of rechargeable, directable, adjustable LED
light in a dark room. It automatically turns off in bright light to conserve its charge.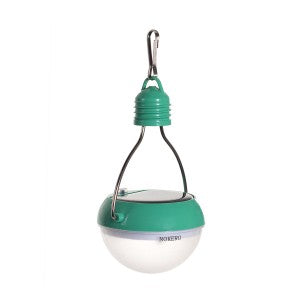 Solar Spray™

Portable Shower

--$11.95
Your gang's been camping for a couple of days, and they're beginning to smell as smoky and gamey as last night's barbecued pork. Ah, for a warm shower—but alas! They're roughing it, and no facilities are available. They'll never face that situation again with a Reliance™ Solar Spray Portable Shower. The lightweight, leak-proof tank holds 5 gallons of water. Set it in direct sunlight for about 2.5 hours, and three people can grab a quick, warm shower.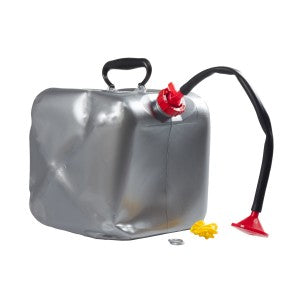 H-25 Strike Master™ Fire Starter--$12.95
This is a safe, dependable fire-starter, with shavings from the handle acting as excellent tinder to catch the sparks. It's a great back-up when you have no matches, and in fact, some people prefer it to matches. Each flint gets up to an amazing 25,000 strikes. So whether you're camping or in an emergency, this fire starter will provide you with the necessary tools you need to stay toasty warm.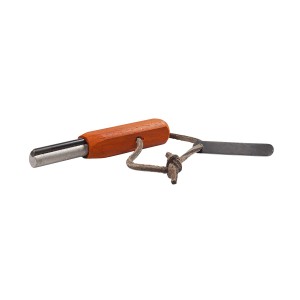 Champion™ Lid Lifter--$14.95
A true champion among tools, this multi-function aluminum tool opens any storage bucket, unscrews most bung nuts on water barrels, and turns off your main gas valve. When you need a tough job done, the champion has got your back. It's sturdier and longer lasting than plastic versions.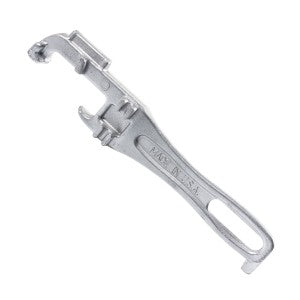 If none of these gifts strike you as just right, take a few minutes to look through our print or online catalog for more holiday gift ideas in this price range. Happy shopping! Sharon