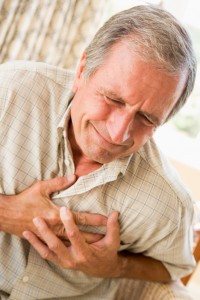 Would you know how to recognize the signs of a heart attack if you or someone you know was having one? Over a million people have a heart attack every year. About half of those will die, and many more will suffer permanent heart muscle damage. The reason? They don't recognize the symptoms and they don't call 9-1-1. Many times we think a heart attack is like what is seen on TV, a "Hollywood heart attack," which happens when a middle-aged man suddenly clutches his chest, grimaces, and breaks into a cold sweat. Although this happens occasionally in real life, most heart attacks start slowly with mild pain or discomfort. The pain may become more pronounced when the victim is active, and may disappear when they're at rest. Victims may not know what's happening, so they'll wait too long to get treatment. They could have these symptoms for days or even weeks. About two-thirds of victims are warned well in advance by episodes of chest pain, shortness of breath or fatigue before the "big" episode itself happens. If you experience these symptoms, it's crucial that you call 9-1-1. Many times Emergency Medical Services (EMS) providers are able to recognize a heart attack and their knowledge allows them to start treatments immediately. EMS providers can get you the care you need much faster than if you had someone drive you to the hospital. You may have to wait much longer for the treatment you need if you drive yourself instead of calling 9-1-1. The medical term for a heart attack is "Myocardial Infarction" or "MI", which means death of the heart muscle. Heart muscle begins to die when the arteries get blocked by a clot. If blood isn't restored quickly tissue death can become permanent, so it's important to get treatment right away.
Symptoms
The most common symptom that both men and women will experience is chest discomfort. In women it may not be the most obvious symptom, as it is for men.
Men's symptoms might include:
• A prolonged crushing pressure, fullness, squeezing or pain in the center of the chest. Symptoms might range from mild to severe and may come and go • Often the pain radiates to the neck, arms, jaw, back or stomach • Shortness of breath, lightheadedness, nausea, cold sweat/chills, or cold clammy skin
Women are more likely to have these symptoms:
• Unusual fatigue • Nausea • Dizziness or lightheadedness • Abdominal discomfort that may feel like indigestion • Discomfort described as pressure/tightness or ache in the neck, shoulder, or upper back You may even have some of these signs in the weeks before an actual heart attack. If you develop any of these, call your doctor so that he or she can perform tests to determine if you're likely to have a heart attack. Doctors can perform non-invasive tests, such as blood work, EKG, and a stress test of the heart before invasive tests are needed.
Prevention
There are several things you can do to improve your heart's health. Ask your doctor, nurse, and family or friends for help. Together you can set goals to reduce the things that raise your risk of a heart attack. • Don't smoke and avoid other people's tobacco smoke • Treat high blood pressure, if you have it • Eat a healthy diet that's low in fat, cholesterol, and salt • Exercise at least 30 minutes on most or all days of the week • Keep your weight in the normal range • See your doctor for regular check-ups • Take your medicines exactly as prescribed • Control your blood sugar if you have diabetes • Reduce your cholesterol Unfortunately, there are some risk factors that you can't change. Age is one. More than 80% of those who die from a heart attack are over the age of 65. Men have a greater risk of heart attack than women. Heredity, including race, is a big one. African Americans have a higher risk of severe high blood pressure than Caucasians, and, therefore, a higher risk of heart attacks. Children of parents with heart disease are more likely to develop it themselves. If you have these risk factors that you can't control, it becomes more important to control the ones you can. Learn to recognize these symptoms, and call 9-1-1 immediately when they happen. To learn more about treatment for those having a heart attack or cardiac arrhythmias, check out our article, "
Using an AED Machine
." -Rick Sources
www.heart.org
Author Bio: Rick became an EMT Basic in 1996, and currently works as an Advanced EMT. He spent several years as an EMT/Firefighter and CERT instructor in Pleasant Grove, UT. He is also a First Aid and BLS instructor. He's worked at Timpanogos hospital for 16 years, spending several years working in the Emergency Room. He currently works in the ICU as a Telemetry Technician. He loves sharing his experience and knowledge of first and emergency preparedness with others.