Do you know why I like to be ready to host a party well before the guests arrive? It's because there's always that one person who just has to show-up super early. And, if I'm not ready by the time he shows up, he'll make sure I'm never ready for the actual party because I'm too busy entertaining him. That's what hurricane season is like. You know it's coming, but there always seems to be that
one storm
that just has to be early. Well, folks, hurricane season is fast approaching (officially starting on June 1), and the early birds are already starting to arrive. [caption id="attachment_18120" align="alignright" width="300"]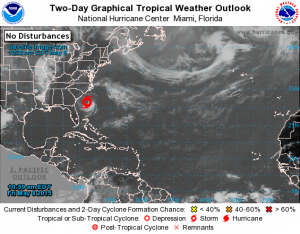 Retrieved 5/8/15[/caption] The National Hurricane Center is kind enough to provide us with a
Graphical Tropical Weather Outlook
of impending storms. This image was retrieved on Friday, May 08, 2015. As you can see, this looks to be quite the sub-tropical storm. Fortunately, this isn't going to be a full-on hurricane, but it's still going to whip your hair back and forth with a vengeance. This just goes to show that putting off our prep until the last moment can leave us high and dry. Er, windy and soaked? Well, you get the idea.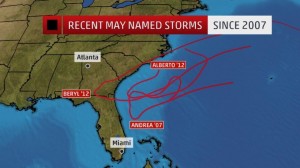 And this isn't the only storm that's wanted a head-start on the hurricane race. Since 2007, there have been
three storms strong enough to be given names
arrive before June 1 (only the memorable storms get names). There have been
many more May storms before that
, too. This particular storm we're talking about has been dubbed Ana - the first named storm of 2015. Now that we're aware of these early party goers and that they can come in weeks before anticipated (which is a whole lot more rude than my hour-early party guest), we know that we'll have to step up our A-game when it comes to preparing for hurricanes. Don't wait, start now. The Texas Department of Public Safety (DPS) has
issued a notice
that, among other things, "adequate and advance preparation is one of the most significant ways Texans can help mitigate the unpredictable and dangerous nature of hurricanes." The DPS also gave warning that hurricanes can cause massive amounts of damage even several hundred miles inland. Talk about a party crasher. So before a hurricane shows up, remember to take the following precautions in order to be safe and reduce damage from the storm.
Emergency Kit
No matter what the disaster, I will always tell you to have an emergency kit. You never know what kinds of incidents a hurricane can cause, so it's best to be prepared. Be sure to have enough food and water to last you three days. Don't forget flashlights (and batteries!), blankets, and a first aid kit. You'll want to take care of any cuts and scrapes to avoid any infections. Check out our
pre-built emergency kits
, or go to
ready.gov/build-a-kit
for more details on how you can create your own.
Secure Your Property
Bring in any outside furniture, bicycles, or other items that aren't secured. Cover your windows. The best option to protect your windows are permanent storm shutters. If you don't have those, the next best option would be to use plywood, pre-cut to fit your window frame. If you have trees or shrubs, make sure they're well-trimmed. This way they are more wind resistant and have a better chance of remaining where they were planted.
Have a Plan
If you don't already know your community hurricane evacuation routes, be sure to start learning them. Teach your children these routes, and also help them know where to go to Replace higher ground.
Communication
You may not be with your family when disaster strikes. This is why it's important to have a family communications plan. Replace someone – a relative or trusted friend – that lives out of state that you can contact and notify that you're safe. It may be easier to call out-of-town numbers than local ones. Text messages also have a better chance of going through when phone calls can't. Have your kids memorize your number.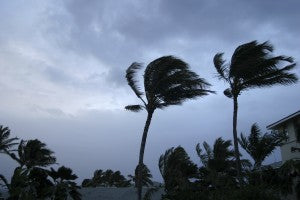 We can know a hurricane is coming many days before it hits, so we don't have to be caught off guard when it does arrive. And even though hurricanes can surprise us by showing up early, they have the decency to let us know their intent. Of course, it's always still best to be prepared even before we are made aware of the oncoming storm. So, don't be upset when Mother Nature crashes your party early. Be prepared, now, to be a good host when she shows up.