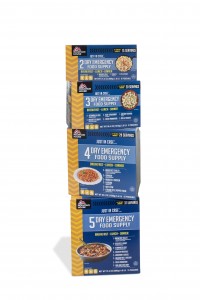 Let's face it – you need to eat. It's not only a necessity, but it's something you actually enjoy doing! After all, what's life without food? Sometimes, though, Replaceing good food for an extended period of time can be difficult. Fortunately,
Mountain House
has developed a way to keep you fed in a simple, convenient manner that will blow your taste buds away. So without further ado…
Mountain House Just-in-Case Emergency Food Supplies
! There are many kits to choose from, but the concept remains simple. Each kit comes with a certain number of Mountain House food pouches – enough for two or more days, depending on the kit chosen. That means if you only need four days' worth of food, all you need to get is the
4-Day Emergency Food Supply
. Simple enough, right? But that's just the beginning! By mixing and matching these kits, you're able to get yourself even more days that what it says on the boxes. For example, if you need a week's worth of food, your options include a 4-day and a 3-day, or a 5-day and a
2-day
. Need food for two weeks? Why not get one of each! The benefit in getting different kits to reach your meal count is that each kit contains different meals than the other kits. That means each
3-day kit
has the same meals for that day count. Similarly, each
5-day kit
contains the same meals for that kit. So, each meal you Replace in the 3-day kit won't be in the 5-day kit, and vice versa. This is especially useful if you want more variety in your food storage.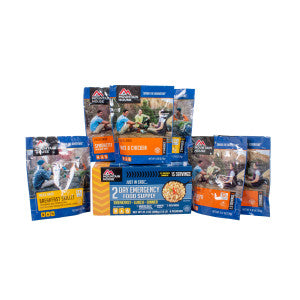 Inside the kits are pouches of freeze-dried meals for breakfast, lunch, and dinner for however many days you choose. One of the perks of pouches is their small, personal-sized contents. If you're out on a camp out, you may not want to haul around a #10 can of your favorite entrée. Pouches allow you to pack and prepare your food in convenience. By using the pouch, you can reconstitute the contents inside without even having to pour it into a separate container. This makes it so you don't have to carry any plates or dishes around, either. Then when it's ready to eat, the pouch is now your serving dish. Convenient indeed. But what about taste? After all, that was one of the very first things mentioned above as something crucial in our meals. Not to worry! Mountain House has some of the best-tasting freeze-dried food around. They have professional chefs create their meals from scratch, so you know the food you're getting is quality. Mountain House also offers a
Taste Guarantee
, in which if your pouches don't taste like they did they day they were freeze-dried in 12 years, then they will send you a replacement straight up. That's how confident they are.
Third party tests
have also declared Mountain House the best of its competitors in taste, appearance, and other categories. If you're looking for great tasting, convenient emergency or camping food, look no further than these Mountain House multi-day emergency food kits. Just grab a kit and you're good to go for up to five days. Add more kits and you will have as much food as you need for as long as you need without having to figure out the math behind it all. Being prepared with great food can make a huge difference in your camping and hiking trips, and especially during an emergency.
Mountain House makes it easy
for you to continue eating flavorful, home-style meals when traditional methods of cooking are no longer available. Visit
/just-in-case.html
to get your Mountain House Multi-Day Emergency Food Supplies!
What's in your ideal emergency food supply? Let us know in the comments below!