Hurricane Katrina was devastating to health care providers. Hospitals and clinics flooded or lost power. Almost 100 kidney dialysis clinics in Louisiana, Mississippi, and Alabama closed,
some permanently
. A representative from a company that manages dialysis clinics described the result: "More than 7,000 displaced patients packed into our open clinics, which were not immediately staffed to handle them all."
According to the U.S. Centers for Disease Control and Prevention
, more than half of older adults have some kind of functional limitation, like chronic health problems, impaired mobility or diminished sensory awareness. This can make them vulnerable in an emergency. Sixty percent of the people in Louisiana who died from Hurricane Katrina were over age 60. So planning for emergencies is especially important for seniors.
One group of older adults
from Rochester, New York, described how an ice storm that caused a two-week power outage impacted them. "If we had only taken a few simple steps to prepare ourselves for such an event, we could have eliminated many of the hardships we had to endure," they wrote for a Red Cross booklet about senior preparedness. They recommended three ways to prepare: get a kit, make a plan, and be informed. Unless otherwise specified, the ideas below come from their Red Cross booklet, "Disaster Preparedness for Seniors by Seniors."
Get a Kit
In addition to a basic emergency kit with food, clothing, and water, seniors should personalize their kits with extra supplies. These can include extra eyeglasses, medication, hearing aids and batteries, oxygen and assistive technology. Label bags and equipment with a name, address and phone number. Keep support equipment in a designated place so it's easy to Replace.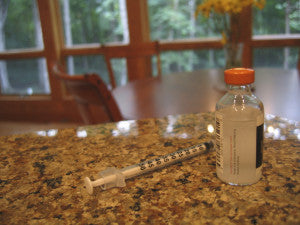 Some medication, like insulin, requires refrigeration.
The U.S. Food and Drug administration recommends
that if power has been off for a while, those drugs should be discarded. However, if they are necessary for life, they may be used until a new supply becomes available. Medication exposed to excessive heat and flood water can also become unsafe. So keep medication in a waterproof container and check it for exposure before use. Not many people can afford spare hearing aids. In an earthquake-prone area, use Velcro to attach a hearing aid case to a flat surface so it will be readily available and won't shake off.
Make a Plan
Have a plan for how to evacuate and how to shelter at home. Share it with caregivers, friends, and family members. Be honest about abilities and limitations. Know home caregivers' emergency plans. Keep phone numbers handy – carry them in a wallet or post them by a telephone.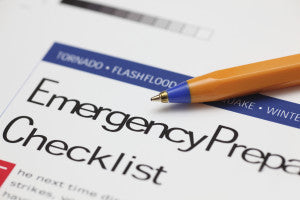 Keep copies of vital records in a fireproof container or safe-deposit box. Vital records include birth, marriage and social security certificates, insurance information, wills and deeds and records of possessions. Health care records are also important. The U.S. Department of Health and Human Services has an online tool, called
Blue Button
, to help people bring together their electronic health records. After Hurricane Katrina, 85,000
people had trouble
getting social security checks through the mail.
The AARP Foundation recommends
people switch to direct deposit. Go to the U.S. Department of the Treasury web site, godirect.org, or call 1-800-333-1795. The Treasury Department also has a prepaid debit card option for people with no bank account.
Be Informed
Know what types of disasters are more likely, and prepare for those. "Seniors living in Florida need to know how to prepare for a hurricane, while older adults in the Midwest should stock up for blizzards and floods. In California, people should prepare for earthquakes and wildfires,"
the CDC recommended
. Be aware that scammers come out after a disaster. Operation Emergency Prepare recommends
six steps to keep from being scammed
.
Don't pay cash to a contractor for home repairs and never give your credit card number unless you are paying the bill with it.
Be sure you have a signed contract detailing the work you want to have done and don't make a final payment until the work has been done to your satisfaction.
Make sure that any contractors, plumbers, electricians, or roofers are bonded, licensed, or registered in your state. You can check their license status with your state or Better Business Bureau.
Try to get several bids before agreeing to any work; a one-third down payment is considered appropriate.
Beware of home repair loan brokers who guarantee you a loan if you first pay a fee.
If you suspect you have been taken advantage of, call your state attorney general's office.
As the CDC points out
, in an emergency, older adults are a great resource. With their experience and knowledge, they can be preparedness leaders. It starts with preparing themselves first.
What can you do more to be better at preparing the elderly you know?