[caption id="attachment_20934" align="alignright" width="300"]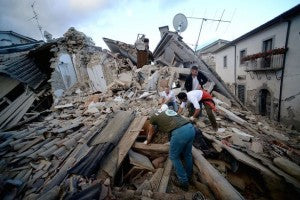 Searching for survivors - via The Mirror[/caption] A magnitude 6.2 earthquake – along with a string of more than 80 aftershocks –
hit central Italy
early Wednesday morning.
At least 120 people are dead
, and entire towns are in crumbles. One such town is Amatrice, to which the mayor explained, devastated, "Half the town doesn't exist anymore." At least two other towns have been
reduced to rubble
, and the death toll is
expected to rise
as rescue teams arrive at more remote areas. The earthquake rattled central Italy during the early morning hours when most people were still asleep.
Homes fell
and roads buckled. The shake was so powerful it was felt more than 135 miles away. Italy is situated on
two fault lines
, making it not only the most earthquake-prone country in Europe, but also in the entire world. With homes destroyed, people are now essentially homeless. The same thing happened in Nepal in 2015, although on a much larger scale. Because homes were destroyed and residents were fearful to spend the night in a damaged home, Kathmandu and the surrounding area became a
city of tents
. [caption id="attachment_18054" align="alignright" width="300"]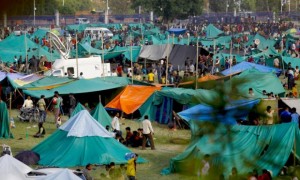 Kathmandu's tent city[/caption] Having some sort of emergency shelter is always a good idea. A
tent
will keep you protected from outside elements, but even a tarp draped over tree branches is better than nothing. Sometimes you may need to rely on these alternate shelters rather than a compromised home. Earthquakes can strike anywhere and at any time. In the case of the Italy earthquake, it struck around 3:30 in the morning. Lights will be out and power will be sketchy, at best. Having an earthquake kit – stored in a safe container, such as a bucket – will help you through those literal dark times with your prepared flashlights and other gear and supplies. While the Italy earthquake is devastating, it is still a good time to reflect on your emergency preparations and continue to build it up with the gear and supplies you need. Being prepared before the disaster is essential for riding it out as safely and comfortably as possible.

Katadyn Hiker Microfilter Giveaway