This month Emergency Essentials is bringing you a lot of good stuff on the cheap. You can check out several of the items in separate feature articles. (See this month's Resolve To series.) There are other excellent products that won't get their own feature, and we want to make sure you know what's available. [caption id="attachment_1295" align="aligncenter" width="300"]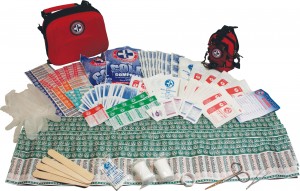 On sale for $28.99[/caption]
First up, the
397-Piece First-Aid Kit
, is on sale for $28.99. It's fill of individually-packaged bandages, ointments, creams, and wipes. It comes in a durable bag and you'll get extra tools like scissors, tape, gauze, gloves, and a basic first aid guide.
[caption id="attachment_1299" align="aligncenter" width="300"]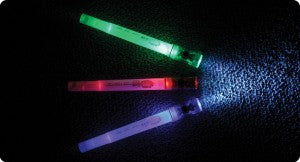 On sale for $2.99 each[/caption] Our
LED Glow Stick 200
is on sale this month for $2.99. This is a seriously sweet deal for a seriously sweet item. It's a combination LED glowstick, flashlight, emergency flasher, and whistle. It will flash for over 200 hours and comes with batteries and replacement batteries so that even your back-up has back up! Because the glow stick runs off of batteries (not chemicals) it's a non-toxic, conscientious way to prepare. If I'm buying anything this month, a bunch of LED Glow Stick 200s is it. [caption id="attachment_1308" align="aligncenter" width="300"]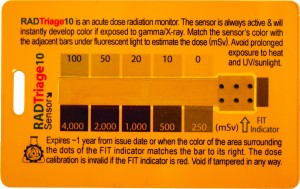 On sale for $22.99[/caption]
Have you heard of the
RADTriage™ Radiation Monitor Card
? It's a wallet-sized card that shows you how much radiation you've received if you're exposed. The monitor is always active and will immediately change color when exposed to gamma or X-rays. The sensor strip will begin changing color right away and finish monitoring in about ten seconds. (
Click here
to see a video from the manufacturer, JP Labs.) The color change is permanent and the card is good for one exposure indication.
Click here
for additional information on shelf life and here for testing results from the U.S. Department of Homeland Security. So, how much will this proven tool cost you? Normally it sells for $34.99, this month we're offering it for $22.99.
[caption id="attachment_1306" align="aligncenter" width="245"]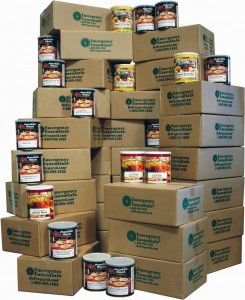 On sale this month![/caption] I wasn't sure anything could beat the techy coolness of the RADTriage™, but there are some real steals in the food department this month. Our biggest sale is on the Premium 2000 One Year Supply of food. If you were to price out each individual item the combo would sell for $3,348.51, but you can get it for $2,599.99 this month. That's a $748.52 savings, plus you'll only pay $12 for shipping on the entire order! You read it correctly – you won't pay shipping on individual cans or on total weight. You'll only pay $12 for shipping your entire order.*
Two other items with big discounts are on the Granola with Milk and Bananas LRP (this month $1.99, MSRP $3.95) and the LRP Entrée Combo (our price $17.99, MSRP $67.41). LRPs are lightweight so they're great for backpacking, emergency kits, and food storage. They're really easy to prepare because you just add water. I tried some the other day and I have to say I was impressed with the flavor. I wasn't expecting freeze-dried food designed for military use to taste good at all. But the entrée I tried was creamy, the vegetables had a beautiful fresh color, and the serving was generous. I'm definitely adding a few of these to my supplies! FYI These products are not available online. Call Customer Service to add them to your order. 1-800-999-1863 during business hours. (M-F 8-6, Sat 9-5 MST.)
Like I said earlier, there are other items on sale that I don't have space to mention. (Ok just one more really quickly – check out the Aqua Towel. Usually it costs $4.95 but this month it's on sale for $2.49.) You'll want to have a good browse through the catalog or on our website so
click here
to see all the sale items. Happy stocking! --Steph *An additional charge will be added for orders shipped to Hawaii, Alaska, Puerto Rico, the U.S. Virgin Islands, APOs, and FPOs.