It's a brand new year, and time for the customary list of New Year's resolutions. Raise your hand if you have "lose weight" as a New Year's resolution … again? (I won't mention how many years it's been on my list.) Last week, U.S. News and World Report ranked 38 popular diet plans. All of the best plans had one thing in common: an emphasis on fruit and vegetables.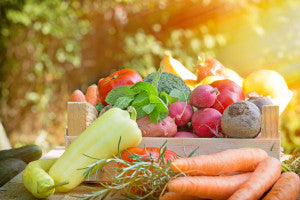 "People who eat more vegetables and fruits as part of an overall
healthy diet
are likely to have a reduced risk of some chronic diseases. Vegetables provide nutrients vital for health and maintenance of your body,"
says choosemyplate.gov
, a U.S. Department of Agriculture site to promote healthy, nutrition-rich eating. Let's call it how it is: fresh food is almost always better for you. However, what if you're in a survival situation where fresh food is hard to come by? Or, what if you want the convenience of pre-packaged foods without all the additives?
Freeze-dried foods
and canned foods can help fill those needs. For example, let's take this recipe, from the Mayo Clinic, for the DASH diet and the Mayo Clinic diet. The DASH diet was ranked the best by U.S. News and World Report experts. The Mayo Clinic diet was ranked fourth. By the way, I'm not promoting any diet plan. How can I promote something I can't stay on? Here's the
original recipe
: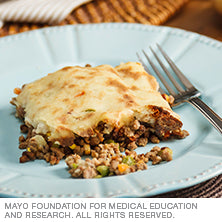 Shepherd's Pie
By Mayo Clinic Staff Serves 6
Ingredients
2 medium russet potatoes, cut into nickel-sized cubes 1 teaspoon olive oil 1/2 cup chopped onions 1/2 cup chopped carrots 1 pound lean ground beef 1/2 pound ground turkey breast 1 tablespoon tomato paste 1 teaspoon finely chopped fresh rosemary 1 teaspoon finely chopped fresh thyme 1/2 teaspoon kosher salt 1/4 teaspoon black pepper 2 cups chicken stock 1/2 cup frozen peas, thawed 1/2 cup frozen corn, thawed 1 cup skim milk 1 tablespoon butter 1/4 teaspoon kosher salt
Directions
Heat the oven to 400 F. Place the potatoes in a medium pot with water and bring to a boil. While the potatoes are cooking, heat oil over medium heat. Sautee the onions and carrots until tender. Add the beef and turkey. Break apart the meat and stir frequently. When the meat is thoroughly cooked, add the tomato paste, rosemary, thyme, salt and pepper. Add the stock and cook for 10 minutes; stir in the peas and corn. Cook the mixture down until most of the stock is absorbed; place the mixture in a casserole dish. When potatoes are soft, drain off the water. Then return potatoes to the pot over medium heat. Add the milk, butter and salt. Using an electric mixer or potato masher, mash the potatoes to a smooth consistency. Spread the mashed potatoes evenly over the top of the meat mixture and bake for 20 minutes or until slightly golden brown around the edges. Serve hot. Now, let's say you're in a hurry and don't have time to chop up onions, potatoes and carrots. You're just mashing the potatoes.
Instant mashed potatoes
might be the fastest substitute, because they contain milk, salt, pepper, and butter flavor. If you don't like the additives, consider using
freeze-dried potatoes
, which contain salt. Other food storage-based options include rinsed canned potatoes. To save more time, use
freeze-dried onions
, and
carrots
, which are already cut. Nearly all the ingredients in this recipe can be kept on shelves in food storage. So even if you're, say, in a tough period and need to use food storage, you still have healthy food. Potatoes contain potassium, and diets with a lot of potassium may help keep healthy blood pressure, according to
ChooseMyPlate.gov
. In addition to giving strong flavor, one onion has only 63 calories, and provides up to 20 percent of daily requirement of vitamin C,
according to WebMD
. One carrot provides 200 percent of your daily requirement of vitamin A,
according to WebMD
.
According to WebMD
, a ¾ cup serving of peas has more protein than a whole egg or a tablespoon of peanut butter, less than one gram of fat and no cholesterol. Now, a caveat to replacing fresh food with preserved. When you buy food for storage, check the labels. A lot of canned and dried foods have added salt and sugar. If you use something like beans canned with salt, rinse them well first.