Bunkers that cost more than $100 million and have amenities like a bowling alley, movie theater, a pizzeria, or a swimming pool. Secret doors that can only be opened by playing a certain set of notes on a keyboard, a la "Goonies," or by dialing a certain phone number. Executives who use "buying property in New Zealand" as a code for an apocalypse shelter. [caption id="attachment_21450" align="alignright" width="300"]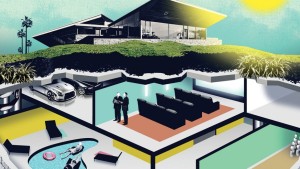 Nice and normal up top, secret and lavish down below - Illustration by Mario Wagner via Hollywood Reporter[/caption] Many of the most wealthy people in the U.S. – one tech executive estimated as many as half of Silicon Valley billionaires, for example – are investing in
lavish doomsday prepping
. Companies are catering to them, offering bomb-proof, climate change-proof bunkers with air and water filters, underground greenhouses, off the grid power and water systems and armed guards. Oh, and interior designers to make sure they've got the best -looking shelters, with all the amenities. It's not just shelters, either. Some are getting laser eye surgery, buying firearms and taking survival training "It's really just the newest form of insurance," Robert Vicino, founder of a company that builds communities of bunkers in Indiana,
told The Hollywood Reporter
. Most of us will never have access to these kinds of resources. (
One bunker community
costs $5 million per "chamber," and residence is by invitation only.) However, we may apply many of their principles of preparation. Steve Huffman, the thirty-three-year-old co-founder and C.E.O. of Reddit,
spoke in-depth to The New Yorker
about his preparations. He told the magazine if disaster hit, he would look for a community. Knowing neighbors and friends is not only sociable but also valuable if there's a disaster,
according to the Federal Emergency Management Agency
. Its "Listen, Protect, and Connect" brochure offers ways to prepare so you can help those around you during a disaster. Even if you can't afford a bunker or secret room, you should have a safe place for your most important personal information and an emergency fund. Larry Hall, the C.E.O. of the Survival Condo Project,
told The New Yorker
that two technology companies wanted him to design "a secure facility for their data center and a safe haven for their key personnel." The same story said wealthy individuals are also buying Bitcoin and gold coins. And Steve Humble, president of Arizona-based Creative Home Engineering
told The Hollywood Reporter
, "There are a lot of Oscars and Emmys tucked away safely behind my secret doors." "If there's a natural disaster like a fire, do you know where your birth certificates are?" asked Ann House, coordinator of the Personal Money Management Center at the University of Utah. The Federal Emergency Management Agency's "
Emergency Financial First Aid Kit
" is a great organizational resource, she said. The 44-page booklet includes four sections that identify what information to collect, like social security cards, insurance policies, prescriptions and emergency contact information. She also recommends keeping a few hundred dollars in small bills with an emergency kit. That way, if you need to buy water, you don't have to Replace an ATM or pay $50. Medical preparation is necessary too. Yishan Wong ,the C.E.O. of Reddit from 2012 to 2014, had laser eye surgery.
He told The New Yorker
it was to do away with his dependence on a "nonsustainable external aid for perfect vision." Everyone else can keep glasses and copies of prescriptions with emergency supplies or important documents. If your insurance will let you, get a few days' worth of medication. [caption id="attachment_21451" align="alignright" width="300"]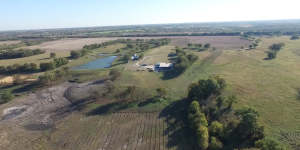 Trident Lakes - via Business Insider[/caption] At Trident Lakes, a planned luxury condominium development that includes in its amenities fortified shelters, the cost of a condo could be above the mid-six figures,
according to a story in Business Insider
. However, the community will offer discount rates for police, teachers and other civil servants. Learning useful skills can help anyone prepare for disasters, both natural and events like job loss. "Learn new skills that could be turned into a small job such as a piano teacher," Kayleen Chen, a peer mentor at the University of Utah's Personal Money Management Center, wrote in an e-mail. Preparedness is also about ability to evacuate quickly. One Percenters can do that in style.
In a piece for GQ
, author Michael McGrath described how Goop's 2016 "
Ridiculous, But Awesome Gift Guide"
included the
Jetpack Bag
, an "all-in-one, 72-hour survival pack," for $399. For the rest of us,
this FEMA brochure
is more apropos. And there is another commonality between these super-wealthy preppers and the rest of us: Everyone's eating canned food. Or,
as The Hollywood Reporter put it
, "The rations are grim, ranging from beef Stroganoff to chili."