[caption id="attachment_19914" align="alignright" width="300"]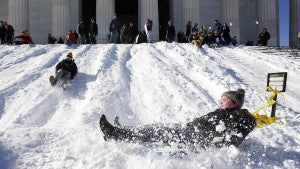 Sledding down the steps of the Lincoln Memorial - via ABC News[/caption] The eastern winter storm has come and gone, and
it was an even bigger whopper than meteorologists feared
. It dumped more than two feet of snow up and down the eastern seaboard, breaking snowfall records (it just missed breaking the New York City record by one-tenth of an inch). At least 250,000 people lost power and more than 50,000 remained in darkness Sunday. It wreaked havoc with travel plans. It caused cancellation of more than 12,900 airline flights from the New England to Florida. Runways at Dulles and Reagan National airports, two of Washington D.C.'s largest,
stayed closed Sunday
, and flights were
still being canceled for Monday
. New York City shut down public transportation and
banned road travel
, as did other major cities. "Historical snow storm. Please be patient, it will take a while for clean-up – especially small streets," tweeted Baltimore's Transportation Department, according to USA Today. Despite travel bans, hundreds of accidents were reported. Two college sports teams, along with many other vehicles, were stranded for a day on the Pennsylvania Turnpike. Hundreds more cars were stranded overnight on a 30-mile stretch of Interstate 75 in Kentucky after accidents closed the road.
Even President Obama's motorcade got caught
in storm traffic. At least 30 people died, more than half from automobile accidents. Some died from carbon monoxide poisoning in buried cars whose tailpipes were blocked. With all this in mind, here's a reminder of some things you can do to prepare for travel trials. If you're planning to fly to or from a storm-affected area, closely watch the weather. This storm was forecast for a week, so cancellations started days early. With enough lead time, you might be able to
change your flight plans beforehand
. Airlines usually issue travel waivers to allow passengers to change flights without penalties. Don't leave for the airport until you're sure your flight is actually leaving. Web site FlightAware tracks delays and cancellations. [caption id="attachment_19916" align="alignright" width="300"]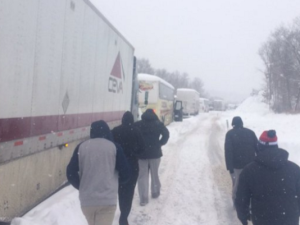 It took the Duquesne men's basketball team almost 30 hours to get home from Virginia - via Duquesne Men's Basketball[/caption] The adventures of the Duquesne University men's basketball team,
as reported in USA Today
, illustrates several aspects of being prepared for winter travel. The team bus got stuck for a day while traveling home to Pittsburgh after a Friday basketball game in Virginia. First, keep a full gas tank. When the players' bus got stuck, it had three-quarters of a tank left. That meant the bus had heat and power. It also meant the players could recharge their phones.
Ready.gov suggests
adding ways to communicate to your emergency kit, like a
battery powered radio
or a phone or emergency flares or a distress flag (if you don't have a way to charge a phone,
this story from USA Today
gives tips about how to make its battery last longer). Second, keep some
emergency supplies
in your vehicle. After emergency workers cleared the road enough for the bus to get through, players had to shovel it out. According to the USA Today story, the players had to use empty pizza boxes and plastic garbage cans to clear the way. And after they got the bus out, they didn't go 300 yards before their bus got stuck again and players had to push it out. A little sand and a shovel, as
recommended by ready.gov
, might have been useful. Third, make sure you've got food and water. The players had bought food at a convenience store right before they got stuck. However, after most of a day in "a big stretch of nothing," as Duquesne coach Jim Ferry told
USA TODAY Sports
, food was running low. They had water because a local fire department brought water to stranded vehicles. The team tried to arrange for pizza delivery to any nearby point, but could only get one pizza place to even consider it. Finally, some emergency workers gave a few of them a lift to a grocery store, where they bought food for themselves and a bus full of middle school students that was stuck next to them. Fortunately, the team eventually made it home. Members of a family in New Jersey didn't. The father was trying to dig out his car while his wife and children, ages 1 and 3,
waited inside the running vehicle
. They didn't realize the tailpipe was blocked with snow, which sent carbon monoxide back into the vehicle.
Carbon monoxide is a colorless, odorless poisonous gas
produced by burning fossil fuel. The mom and 1-year-old died, and the 3-year-old remains hospitalized. If you get trapped in a vehicle during a snowstorm, run the vehicle sparingly and please make sure the tailpipe stays clear. --Melissa