During last weekend's East Coast blizzard
, 50 people died, a quarter of a million lost power and hundreds of accidents were reported. But for most people, the blizzard was simply a time to stay inside or shovel snow. They managed to keep busy. One
dressed in a T-rex costume
to shovel snow, and another dressed up in a panda costume and
challenged a real panda
to a "snow battle." Others
skied and snowboarded down New York City streets
or caught up on TV and movies. An enterprising Brooklyn, N.Y., resident built an igloo then
put it up for rent on AirBNB
. A few crazy swimmers
practiced outside
in Speedos ™. Many people had
epic adventures
with
snowballs
. One couple
got married
and another had a baby. One thing no one mentioned they did was prepare for the next storm or disaster. However, if basic needs are met, a snowbound day can be an ideal time to review disaster preparations and make a few more. Here are a few ideas. Financial preparation might be just as important to well-being as physical preparation. Last weekend, Washington Post financial columnist Michelle Singletary suggested using the blizzard to do a budget. She even provided a link to
free budget templates
. It's especially useful to prepare a budget now because, as she pointed out, the 2016 tax season just began and taxpayers must pull out financial documents anyway. While all those financial documents are out, pull out insurance information too.
Replace out what deductibles
are in case of things like roof damage. Since most homeowner's insurance policies won't cover floods, consider flood insurance. In Cape May, New Jersey,
one restaurant owner said
his restaurant flooded "worse than (Hurricane) Sandy." Melting snow and blocked gutters can also cause flooding, even in non-flood-prone areas.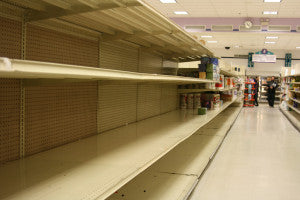 Even with advance warning of storms, stores still have a hard time keeping enough food and supplies in stock, because
they must rely on suppliers' schedules
and they don't have large back rooms to store things. So it's a good idea to keep short-term food storage on hand. Look at emergency supplies already in the house and consider investing in a few more.
Despite traditional suggestions
, stocking up on bread, milk, and eggs right before a snowstorm may not be the best idea, especially if a power outage shuts down the refrigerator. Thanks to online shopping, it's possible to order emergency supplies even during a major winter storm.
Emergency Essentials has sales for items like winter sleeping bags, hot chocolate, flashlights, water storage and tents
. Finally, winter snowstorms can help people get to know their neighbors – which, in addition to being a good way to make friends, can help if major weather events turn severe. Before the snowstorm, news crews
bumped into Alex Ovechkin
, a top winger and captain for hockey's Washington Capitals, getting fuel so he could plow his neighbors' driveways. A
"Star Wars"-themed snowball fight
advertised on Facebook brought out hundreds of people in Washington, D.C. Even during a major winter storm, it's possible to prepare for the next one. And the next one's coming. A smaller storm crawling up the East Coast may bring rain and snow this weekend. Another major winter storm developing off the northwestern U.S. is forecast to bring winter weather to the Rockies and Great Plains
for Groundhog Day
. - Melissa
How are you preparing for the next winter storm? And how do you plan on combating cabin fever?