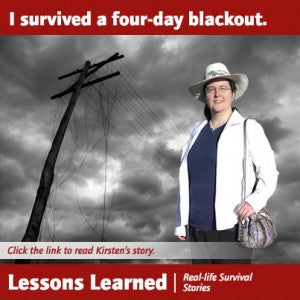 In the summer of 2005 Kirsten and her family experienced a four-day power outage caused by lightning striking the area transformer.
Here's what she had to say about it.
My husband and I thought we were prepared for a "common disaster". We were completely wrong. When power went out for days, we could not run my husband's CPAP machine to help him breathe overnight. We also lost everything in our fully stocked freezer, causing us to lose hundreds of dollars of frozen food. We also neglected to realize just how hot the house would get in a heat wave with the power out, or that people run the fire hydrants to try to cool off. This made it so that we had very low water pressure, which meant that we didn't have water to rely on! We [were counting] on frozen and cold food storage for our food, and on being able to cook with our electric pilot light gas stove! While having a small propane cook stove helped, it rapidly became so hot in the house that we couldn't cook anyway, and all of our cold food stores were ruined. I wish we had known to store water; it never occurred to us we wouldn't have water! I wish we had more shelf-stable food, more water, and enough battery or generator power to handle my husband's medical needs!
Kirsten's advice to preppers?
Get a generator or several batteries to handle medical needs, have stored water on hand to last at least a week (the amount of time my neighbors were without power during Sandy), and have a LOT more dehydrated foods and shelf-stable foods. All too many people assume that they can cook when the power is out, but some modern stoves will not light without an electric ignition pilot! In addition, so many city folks rely on frozen food and their refrigerators (like we did) and that's simply not helpful if you lose power for very long.
Thanks for the great advice Kirsten! Make sure you have a way to ignite your oven's pilot light. In some cases the solution may be as simple as keeping matches on hand. It also pays to be prepared with alternative cooking gear (like a Volcano stove or a Sport Solar Oven). And of coursewe love the point Kirsten makes about storing potable water. Clean water for drinking is a top priority.
If you'd like to read more from Kirsten, check out her Be A Prepper blog.