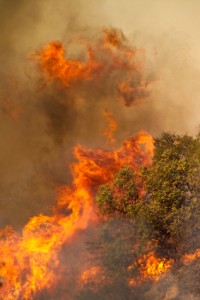 This morning when I got in the car to drive to work, my husband turned on National Public Radio (NPR). As they told the local news report, they said that a Red Flag warning had been put into effect in the State of Utah. When I heard this, I turned to my husband and asked, "What's a red flag warning? I've never heard of that before." When I got to work, I went to the NOAA website to look up what a Red Flag Warning was. According to NOAA, a Red Flag warning is "means that critical fire weather conditions are either occurring now . . . or will shortly. A combination of strong winds . . . low relative humidity . . . and warm temperatures can contribute to extreme fire behavior." In addition to this definition,
NOAA's National Weather Service (NWS)
has issued several Red Flag Warnings for Southern California and Colorado. As Urban Girl's post
Fire Season Safety Tips and Preparedness
suggests, we are in the heat of wildfire season. In fact, according to reports from NBC's U.S. News on June 18
th
, an
Arizona Wildfire
burned 5,000 acres of land in seven hours yesterday! Many Prescott, Arizona residents were evacuated from their homes. Arizona police believe that the fire was man-made. Warnings have been issued to campers to be cautious while using fires and putting them out. Since Red Flag Warnings are cropping up for certain areas in the Western United States, it is important to know not only the signs of potential wildfires, but also what safety measures that you can enact in order to keep you and your family safe.
National Geographic
offers some great advice on what to do to protect your home once a Red Flag Warning has been issued, how and when to evacuate, and what to do if you get trapped in a wildfire. The Red Flag warnings in California and Colorado are expected to last until 10am PDT Thursday morning given the high winds and low humidity levels. The Utah Red Flag warning will last until 10pm MDT today. This suggests that those living in these areas of the country have time to prepare for potential fire dangers before they occur.