Hey there, fellow preppers! Have you survived a disaster? Were you prepared in advance to face it, or is that disaster what got you thinking about emergency preparedness?
At Emergency Essentials, we strongly believe in our mission to help others prepare. One of the ways we do that is by providing education through our
Preparedness Pantry blog
, Be Prepared Forum,
Insight Articles
, and Emergency Essentials Prep School. We can all learn from each other, and we would love for you to join us in educating others about emergency and disaster preparedness. If you have lived through a disaster, whether natural, economic, or man-made, you can
click here
to submit your story. We might just feature it as part of our new Lessons Learned series!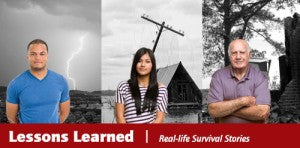 The first featured story will be posted later today--so check back soon. And send us your survival story!