[caption id="attachment_21053" align="alignright" width="300"]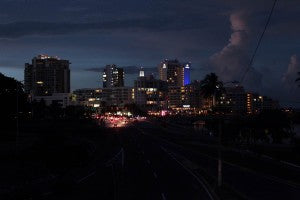 Most of the island was without power - image via NBC[/caption] On Wednesday, September 21, a huge fire at a southern Puerto Rico power plant caused a blackout in 1.5 million homes and businesses. "The entire island is without power," Angel Crespo, director of Puerto Rico's fire department, told the
Associated Press
. As of Thursday afternoon, more than a million were still without power, including my mother-in-law, Ruth Lezcano. She told her son Jimmy that her main concerns were lack of water and uncomfortable heat and humidity. The blackout knocked out pumps at water plants, leaving her and many others without water. Fortunately, she had water storage. She keeps five five-gallon buckets (like the "Homer" buckets from Home Depot) full of water in case of hurricanes. She's been using a bucket for each activity that uses water, like washing dishes, bathing, and flushing the toilet. "She hasn't been able to do laundry for a bit, other than light stuff she can wash in the sink," her son said. The blackout left islanders uncomfortably hot. The temperature on Wednesday and Thursday in the suburb of San Juan where she lives was 87 degrees,
according to Weather.com
. At night, it fell to 77 degrees. The power loss created more problems than just temperature discomfort. During the blackout, Jimmy was worried because he couldn't contact his mother via her cell phone. "She probably had it turned off to save power," he said. We sell small generators and other
emergency power equipment
that are excellent during this type of emergency.
Ready.gov recommends
keeping cell phones charged and having an alternate power source. Also, have an emergency contact outside the immediate area that all family members can use to pass information about their safety. [caption id="attachment_21054" align="alignright" width="300"]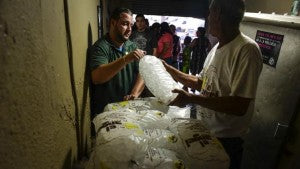 Locals had to buy ice to keep their food at a safe temperature - image via Fox News[/caption] Lezcano, who is diabetic, also had to
worry about her insulin
. Insulin manufacturers recommend storing it in the refrigerator. Insulin supplies in use may be kept at room temperature (between 56°F and 80°F). High temperatures could cause her insulin supply to go bad.
Ready.gov recommends
that people with special medical needs make backup power plans and contact their power company before an outage so it can prioritize getting power to their home. Although
one Twitter user jokingly compared
the blackout to "
The Purge
," a movie in which crime is legalized for 12 hours and emergency services are suspended, Lezcano said there didn't seem to be any more crime than usual. She was concerned about running low on supplies: traffic was snarled, and lines were long at supermarkets and gas stations, according to USA Today. Police officers directed traffic at major intersections all day Thursday. Four were hit by cars. One person was hospitalized after being trapped in an elevator overnight,
according to USA Today
.
Another was killed by carbon monoxide poisoning from a leaking generator. Broken generators also caused 15 fires around the island. All the fires were extinguished, and no one was injured in the blazes. Lezcano was hoping the power would return Friday. In the meantime, she sat outside and people-watched, her son Jimmy said. "She was bored because she couldn't have her Netflix," he joked.