[caption id="attachment_21045" align="alignleft" width="300"]
Time to talk about the elephant in the room...[/caption] Politics. It's all over the news, and now you're reading a blog about it. But this isn't your generic "Vote for Pedro" blog. This article instead examines the rough time this country is having during the election season, and what it means for personal preparedness. No matter who you support in this election, chances are you see the other candidates as wacky and dangerous to the country. Chances are those supporters think the same thing about your candidate. So who is right? That's beside the point. The point is, the majority of Americans don't seem to be very pleased with one or more of the candidates, and that has already led to some protests and demonstrations. We've talked about protests and civil unrest on the blog before, but never (as far as I'm aware) in the vein of politics. Of course, politics can be a touchy subject, so we'll steer clear of the candidate's platforms and focus on the emergency preparedness side of what's going on. Let's look at what's happened so far.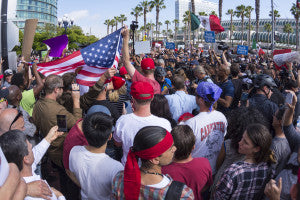 Back in March 2016,
a certain candidate held a rally
in the suburbs of Phoenix, Arizona. Well, some people didn't want others to attend, so they blocked an Arizona highway that led to the location of the rally. Trucks were towed out of the way, and people were arrested. All in all, a fairly subdued display, however annoying to be blocked from getting to town if you live there. In New York City, however, more protesters marched in a show of solidarity and determination. In this instance, tear gas was used to disperse the crowd and keep them from moving past barriers. For civilians in the area, that's looking a little too dangerous. Over and over again in the news we hear of protests turning violent, demonstrations getting heated, and tensions rising whenever politics is even mentioned. As Election Day comes steadily closer, fears of escalating violence is something on the minds of many. Even after the elections, what then? One thing is certain, however, and that is uncertainty. Uncertainty is actually quite normal these days. Natural disasters, the economy, civil unrest…there are many events that could strike without warning and change lives. So how are you supposed to deal with all this uncertainty? It's simple, really. Prepare. We've talked about preparing for natural disasters numberless times. But when it comes to preparing for civil unrest and the uncertainty which is our future? Basically, prepare much the same way as you would for any other emergency.
Emergency water
,
food
, and
gear
will get you through pretty much anything. Of course, having some extra emergency cash on hand is a great idea, too, just in case ATMs don't work and you need to buy something really important. The examples of rallies and other election mishaps aren't intended to stir up fearful emotions. Rather, they are just another reminder of what could possibly go wrong, a reminder that even our own communities can be affected, and a reminder that above all, the time to prepare is now.