Just in time for the holidays, new products and combos are here! New flavorful meals, tangy drinks, cutting-edge survival tools, and more can help you (and Santa) check off your holiday shopping lists this year.
Peaches and Cream Flavored Oatmeal--$20.95
Eating a hearty breakfast doesn't have to taste bland and boring. Just try the Peaches and Cream Flavored Oatmeal. The sweet blend of flavors gives you a delicious, filling breakfast to give you energy throughout the day.
Grape Fortified Drink Mix #10 & MyChoice -- $16.95/$5.95
This new thirst quencher gives you a flavorful, refreshing drink . . . and we LOVE it around here. With this tangy drink, you get more than just a flavored, sugar-based beverage. This grape drink mix is fortified with vitamins and minerals to help you stay hydrated. Great for kids!
Breakfast Variety Combos
These Breakfast Variety Combos are probably my favorite food storage products. We have three unique combos that include a variety of our best breakfast options so you can enjoy them every day or in an emergency. The best thing is that these three combos are on sale throughout December!
Breakfast Variety Combo A--$109.99 (Regularly $141.28)
Enjoy the mouthwatering flavors of the Breakfast Variety Combo A: Savory Scrambled Eggs with Ham; sweet Strawberry Slices; a full-on Breakfast Skillet with hash browns, eggs, sausage, onions, and peppers; Cinnamon Almond Granola; Instant Milk; and hearty Peaches and Cream Oatmeal (win, win, the oatmeal is a new product!).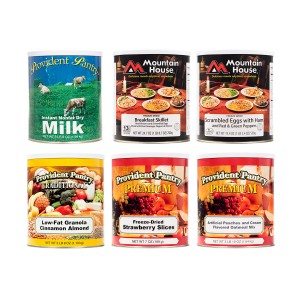 Breakfast Variety Combo B--$119.99 (Regularly $163.78)
If the flavors of the Breakfast Variety Combo A aren't quite your style, Combo B might be more your cup of . . . well, breakfast favorites. This combo gives you scrambled eggs with bacon
and
scrambled eggs with sausage. Love granola for breakfast, camping, or on the go? With this combo you get granola with freeze-dried blueberries AND granola with freeze-dried cinnamon apples. But don't worry, we haven't left out the always-needed hash brown potatoes (which, let's face it, make every breakfast complete) and sweet banana slices (great to mix in with the granola).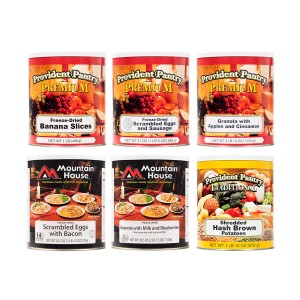 Ultimate Breakfast Variety Combo--$199.99 (Regularly $305.06)
For the true breakfast lovers, or those who just can't decide which breakfast items they love more, the Ultimate Breakfast Variety Combo gives you
everything.
You heard right—you get the granola (cinnamon almond, cinnamon apple, AND blueberry), you get the eggs (with bacon, sausage, AND ham), you get the Hash browns, the Breakfast Skillet, the strawberries and bananas, the Peaches and Cream Oatmeal, and milk! Mix and match the different breakfast items in this combo to get the exact meal you want.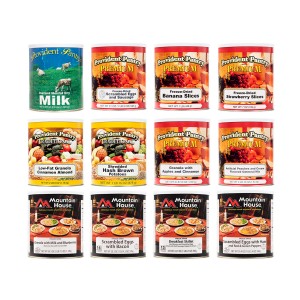 Ultimate Emergency Power Combo
--$2099.99 (Regularly $2679.90) Don't ever be left without power again. With the Ultimate Emergency Power Combo, you get a
Yeti 1250 with Roll Cart
to power your home, your camp, or your recreation silently and emission-free during an emergency. The combo also includes a Solar Tripod that fits the included four Boulder 30M Solar Panels. The tripod helps position each panel to sit at an angle to absorb maximum light. To top it all off, four Light-A-Life's are included to help you distribute the stored power as light when you need it most.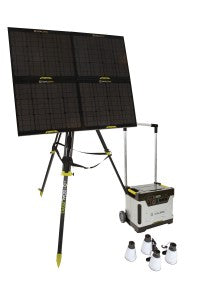 Jetscream Whistle
--$3.99 (Regularly $6.95) The Jetscream is unlike any whistle you've heard before. Its pitch reaches 122 decibels. Let's look at it this way: if speaking is around 60 decibels, rock concerts are usually 105, chainsaws reach 110, and jackhammers are 120, a 122-decibel whistle, like the Jetscream, is pretty loud. It's a great addition to your emergency supplies; it will help others locate you among the noise of emergency vehicles, aftershocks, or frantic crowds during an emergency.
Sparkie Fire Starter-
-$5.99 (Regularly $10.99) The Sparkie Fire Starter is a one-handed fire starter that allows you to aim the sparks to hit your tinder every time. The Sparkie is easy to use and safer than matches or flint and steel. It has a retractable flint-based bar and built-in carbide striker. When the two are pressed together, a spark is generated and voilà— you'll have a toasty fire in minutes.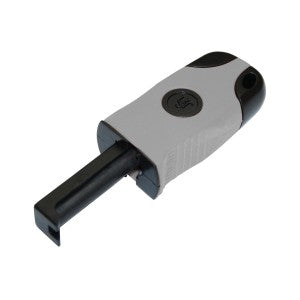 These new products are great ideas for holiday gifts or stocking stuffers this year—or to add to your own [emergency kit]. Many of them are already on sale, too, which makes last-minute shopping easy and painless.
Happy shopping, happy prepping, and Happy Holidays! --Kim