[caption id="attachment_18849" align="alignright" width="300"]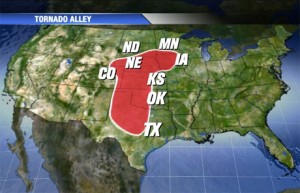 Tornado Alley[/caption] My family used to live in eastern Colorado, on the western edge of Tornado Alley. Every year we'd get many tornado watches and a few tornado warnings. So we were prepared. We had emergency supplies ready to grab and go, a NOAA radio on the counter and shelter plans with our children. Both my husband and I were trained EMTs and participated in a community-wide disaster exercise. None of that helped on the day I cowered in the basement of the hospital, an hour after giving birth to my daughter, while a tornado passed nearby. Or when the same thing happened right after my son was born. I'm choosing to not consider those events omens. Every state and nearly every county in the United States has seen tornadoes. Texas sees the most tornadoes per year, mostly due to the state's sheer size, while Florida sees the most per area, according to NOAA.
Even Alaska gets them
. [caption id="attachment_18850" align="alignright" width="300"]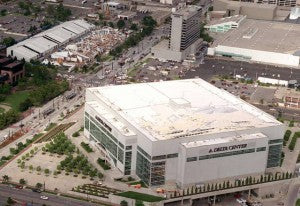 The Delta Center (home of the Utah Jazz) was hit by a tornado in Salt Lake City in 1999.[/caption]
Tornadoes can cross rivers, hills and cities
. Numerous tornadoes have crossed the Mississippi River. An August 11, 1999 tornado in Salt Lake City crossed a canyon and hit the basketball arena for the Utah Jazz. Fortunately, no one was there. Elevation doesn't matter. A hiker photographed a tornado at 12,000 feet in Sequoia National Park, Calif., on July 7, 2004. Tall buildings won't stop tornadoes, either. Downtown St. Louis has seen at least four tornadoes, according to NOAA. The Los Angeles Basin sees as many weak tornadoes per tens of square miles as the Great Plains. Tornadoes mostly occur in the spring and summer. However, they hit every month of the year. "Tornadoes are like snowbirds — they winter in the South," according to an April 22 article in
U.S. Tornadoes.
Parts of southern California and Arizona see more tornadoes in the autumn and winter because of the seasonal monsoon. Florida gets many, in part because hurricanes can bring tornadoes. Mississippi holds the sad distinction of hosting the most deadly tornadoes in each winter month: December, January and February,
according to U.S. Tornadoes
. The most important way to prepare for a tornado is to learn when one is coming. A NOAA weather radio can post updates on all kinds of weather. If you're looking for a good emergency weather radio, the Kaito Voyager Pro is an excellent choice. On average, the National Weather Service issues tornado warnings 13 minutes prior to a hit, but warning times vary greatly. Therefore, the NWS emphasizes
knowing the signs of a tornado
. The following signs are
taken directly from the NWS
.
Strong, persistent rotation in a cloud base. (A cloud base looks like a rotating cylinder of clouds that descends below a storm.)
Whirling dust or debris on the ground under a cloud base – tornadoes sometimes have no funnel.
Hail or heavy rain followed by either dead calm or a fast, intense wind shift. Many tornadoes are wrapped in heavy precipitation and can't be seen.
Day or night – Loud, continuous roar or rumble, which doesn't fade in a few seconds like thunder.
Night – Small, bright, blue-green to white flashes at ground level near a thunderstorm (as opposed to silvery lightning up in the clouds). These mean power lines are being snapped by very strong wind, maybe a tornado.
Night – persistent lowering from the cloud base, illuminated or silhouetted by lightning – especially if it is on the ground or there is a blue-green-white power flash underneath.
Know how to take shelter. Indoors, avoid windows, get to the lowest, most central part of a building like a bathroom or closet, crouch down and cover up with a mattress or sleeping bag. Glass and flying debris are the major causes of injuries in tornadoes. Don't take time to open windows.
As the National Weather Service pointed out
, the tornado will do that for you. Get out of a mobile home and go to the nearest permanent structure. In a vehicle, if a tornado is visible, far away and traffic is light, drive at right angles to the tornado and look for shelter. If you get caught, park the car – out of traffic lanes, stay seated with the seat belt on, put your head down below the windows and cover your head with whatever you can. Don't park under a bridge – it's not safer than the open road and can create a traffic hazard. Beyond that,
preparation for a tornado
is the same as for any other disaster: have emergency supplies for a few days, have important documents on hand, and have a family plan. Then hope a tornado takes place where all of that can do you any good and when you're not doing something like having a baby.