There are a lot of excellent November sale items at Emergency Essentials. Here are my Top 5 must-have preparedness items on sale this month. I'll tell you what they are, how they work, and why you should consider getting them.
#1. Volcano Collapsible Cooking Combo (On sale for $174.99, a $221.78 value)
If you're a grill master, you know some foods taste better depending on the type of fuel you use. With the Volcano, you can use your choice of three different fuel sources—charcoal, wood, or propane—in one grill (not at the same time, of course!). You can use it as a grill or you can cook on the griddle (sold separately). You can even cook food in a Dutch oven (also sold separately) right inside the grill! The combo includes the Volcano grill, a propane attachment, an
Oven lid
, a handy handle (combination lid lifter/holder), and the Volcano Cookbook and Technical manual.
#2. Roadwise Emergency Kit (On sale for $38.95, a $67.55 value)
Since winter is coming, you'll want to have a Roadwise Emergency Kit in your car just in case you get stuck in a winter storm. This kit includes hand warmers, a
multifunction tool
, a
headlamp
,
food calorie bars
,
water
, toilet paper, a
light stick
to use as a flare, and much more. This kit can act as a backup
grab and go bag
if you need to evacuate your home in an emergency. This kit considers a number of needs if you ever get stuck on the side of the road or you just need an emergency kit to survive an unexpected situation.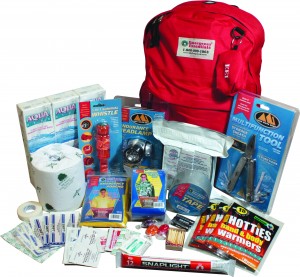 #3. Katadyn Hiker Microfilter (On sale for $49.99, a $79.99 value)
If you're a hiker, backpacker, or emergency preparedness buff, you're going to want a
Katadyn Hiker Microfilter
to filter any water sources you Replace on the trail or to store in your emergency kit. It's lightweight and compact, taking extra weight off your shoulders as you hike. Its unique, pleated cartridge filter prevents clogging and eliminates bacteria and protozoa in your water.
Check out what our customers are saying about this product
. They give it 5 stars! This November sale item is a great deal because the sale price is the same as the price of a replacement filter. So, for the cost of a backup filter cartridge, you can have an entire additional filter!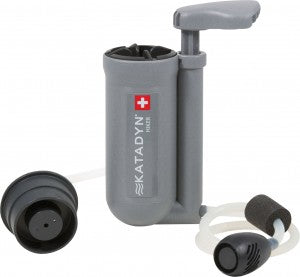 #4. Holiday Red Emergency Candle Gift Combo (On sale for $49.99, only $4.17 per candle)
Have you ever been invited to a holiday party at last minute and forgotten to get a gift? You scramble to Replace a gift in your house and all you have is a journal with a pony on it (not that there's anything wrong with that if ponies are your thing) . . . If you're looking for quick and easy small gifts to give to neighbors and friends, the 100 hour Emergency Candle gift combo is perfect. It comes with 12 emergency candles, 12 gift bags, and 12 bows. Insta-gifts!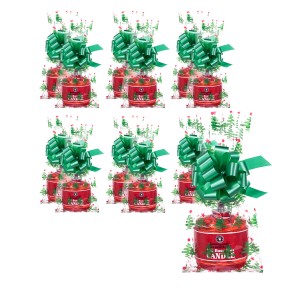 #5. Thanksgiving Dinner Combo (On sale for $94.99, a $126.09 value)
And last, but not least . . . the Thanksgiving Dinner Combo. Have you ever had a craving for a Thanksgiving feast in the middle of . . . July? Well now you can have Thanksgiving dinner all year long with less stress and less work. You can even have all the fixings of a holiday meal if you ever have to celebrate during an emergency. This combo includes the basics of a Thanksgiving feast: Freeze Dried White Turkey, Instant Mashed Potatoes, Gravy mix, Green Beans, Corn muffin mix, and Raspberry crumble (I'm drooling just writing about it . . .). All you have to do is just add water and reconstitute everything (a little baking is required for the cornbread) and your feast is ready. As our catalog so eloquently states, "Football and afternoon nap optional."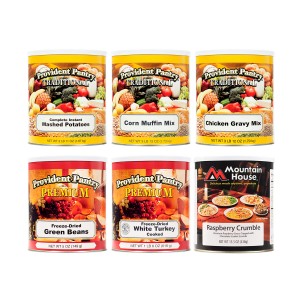 These are just five November sale items, but if you look through your catalog you will Replace over 40 items on sale. If you are thinking about holiday shopping, these
sales
may be the place to start looking for the perfect gift for your family and friends.