When it comes to water storage, there are essentially two kinds: portable and stationary. Either you can transport it with you easily, or it's staying put. After all, just one gallon of water
weighs 8.34 pounds
, which means carrying around even five gallons would weigh you down quite a bit, not to mention 15 or 55 gallons. So what's the best method of emergency water preparation for you? Let's take a look at the differences and let you be the judge.
Portable Water
As you might expect from the classification of portable water, this is water that is easily carried should you need to bug out. As mentioned above, however, water is pretty heavy (8.34 pounds per gallon), so you certainly wouldn't want to be forced to carry it far. Even if you were, you would be hard pressed to carry more than five gallons.
Water Output and Weight
Comparison
To counter the weight issue, you may look into a
water filter
. Water filters weigh much less than water and can produce anywhere from 300 to 13,000 gallons of clean water (depending on the filter) before needing a new replacement cartridge. Compare this water output with its weight and any water filter is the obvious option for portable water options. For example, the
Katadyn Pocket Water Filter
pumps out up to 13,000 gallons of drinkable water, and the filter itself only weighs 20 ounces. That's not bad at all, considering 13,000 gallons of water in barrels would end up weighing 116,220 pounds. That's over 58 tons of water!
Cost per Gallon
Price point is also something to consider when investing in water storage options. These water can cost more than a water barrel, but in the long run, they do produce more clean water. For example, the Katadyn Pocket water filter ends up costing just $0.02 a gallon. It doesn't get much cheaper than that!
Pros and Cons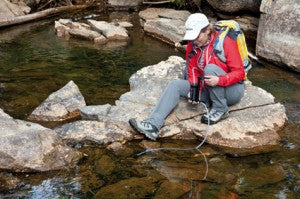 Water filters are small and lightweight, making them an ideal grab-and-go option in case of emergency. Because of their size, water filters are also a great portable water option for backpacking and camping. Also, water filters let you drink safely from most any water source. Lakes, rivers, and even puddles – any of which you wouldn't drink from normally – can become your new watering hole. This is especially important if you're in need of water but your municipal source has shut off for one of many reasons. And, as mentioned above, the cost per gallon can be very low. Water filters are great tools to have on hand. However, they aren't always the most convenient. Instead of pouring your water into a bottle, filling it in mere seconds, it can take longer to produce that same amount of clean water directly from your filter. Some filters pump out up to a quart a minute. Still, considering it's cleaning the water as it fills your containers, that's still not too bad. Also, water filters don't do much good if there's no water to filter. So if you're in an area where water (i.e. lakes, rivers, etc.) are sparse or drought stricken, filters may not be the most effective method of acquiring water. That being said, it's always a good backup.
Stationary Water
There aren't many situations where you'll be forced from your home. However, you may very well have to hunker down inside for one reason or another. Or, your municipal water supply could become contaminated (think Flint, Michigan), a water main could break, or some other cause that would make your water undrinkable. This is where water barrels come into play.
Water Capacity and Weight Comparison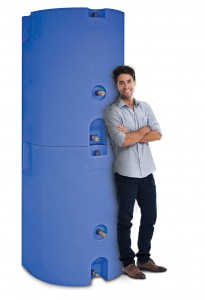 There are
many different sizes of water containers
with which you can store water, ranging anywhere from two liter pop bottles to a
320 gallon water reserve.
For those living in apartments or small homes, the smaller containers may be more ideal, since they take up less space. If you have the room, however, the water barrels and reserves make a great storage units. Holding much more water than just two liter bottles or five gallon jugs, water barrels can be your go-to source for emergency water. The downside to large water containers is their weight. As mentioned previously, clean water weighs 8.34 pounds per gallon. One of the more common water barrels people use is the
55-gallon barrel
. With 55 gallons of water, this would weigh over 450 pounds. Definitely not toting that around! But, if it's just sitting in a dark room in your basement, there should be nothing to worry about.
Pros and Cons
These large water containers let you have water when there is no other water to be found. You can't always make a hike to the nearby river, lake, or stream to fill up a small container from your water filter. By having water barrels in your home, you can ensure you'll always have water when you need it, because you never know when a water main might break, or some other inconvenience will take your tap water from you. The most obvious con of water barrels and reserves is their size. However, that's one of the pros as well. They can be difficult to store with smaller living space, but if you have the room, just having a 15-gallon water barrel will give you water for at least two weeks. That right there is one of the best kinds of insurance. While it's true that there are pros and cons for both water filters and water containers, it is still essential to have a backup water supply. For most cases, water barrels and other containers are the primary source of water should the need arise, with a water filter being used as backup. There are plenty of options for both, however, so make sure you choose the options that best suit your own needs.