[caption id="attachment_20808" align="alignright" width="300"]
Flooding in Venice, LA from Hurricane Katrina[/caption] Today, exactly 11 years after Hurricane Katrina devastated New Orleans and parts of the Gulf Coast, Louisiana residents are cleaning up from another storm that was far worse than everyone expected. At least
100,000 homes were affected
in a
once-in-1,000-year flood
. At least 13 people were killed. Emergency managers said it was the most devastating natural disaster since Hurricane Sandy in 2012. The Louisiana floods have many parallels with Hurricane Katrina. First, both were worse than expected. Hurricane Katrina was expected to be dangerous. The day before it hit, August 28, New Orleans mayor
Ray Nagin
ordered the city's first-ever
mandatory evacuation
. An estimated 80 percent of the New Orleans metro area evacuated. However, no one, including the Army Corps of Engineers who built the city's levee system, expected
nearly every levee to fail
. The storm that slammed southeast Louisiana was an easterly wave, a "hurricane without the winds," as Barry Keim, Louisiana State Climatologist, told
Popular Science
.
The National Weather Service issued
a flood watch for the area on August 10, saying up to 10 inches was possible. That was a slight understatement. In two days,
NWS gauges measured 21.86 inches of rain
. [caption id="attachment_20953" align="alignright" width="300"]
Louisiana Flood, 2016 - via NPR[/caption] "If this was a tropical storm or a hurricane that actually had a National Hurricane Center name attached to it, it probably would have gotten a whole lot more attention as it approached over here," Keim told
Popular Science
. In fact,
the New York Times later apologized
for its delayed interest in the flooding. Second, not that many people had flood insurance. Flooding is usually not covered by regular homeowner's insurance but must be bought separately. Before Hurricane Katrina, there were about 360,000 flood insurance policies in Louisiana, according to Louisiana Commissioner of Insurance Jim Donelon in a
story by the Shreveport Times
. After Katrina, the number of policies jumped to 490,000 in 2008. It's at 450,000 now, which only represents about 21 percent of homes. About 75 percent of the people whose homes were damaged in the flood
didn't have flood insurance
. Almost half of the people who live in a high risk area in Louisiana have flood insurance, according to FEMA, but only 12 percent outside the high risk zone have it. A high risk zone is defined by the National Flood Insurance Program as an area with at least a 1 in 4 chance of flooding during a 30-year mortgage. About a third of homes that flood in Louisiana every year are outside the high risk flood zone, David LaCombe of UDB Insurance in
Alexandria told the Shreveport Times
. When the president declares a major disaster, as he did for Louisiana, the Federal Emergency Management Agency provides a maximum of $33,000 per household for disaster relief. "Even if you only have 3 or 4 inches of water in your home, it could still cost you $40,000 to $50,000 to replace the sheet rock, replace the flooring and all that sort of stuff," LaCombe told the
Shreveport Times.
[caption id="attachment_20955" align="alignright" width="300"]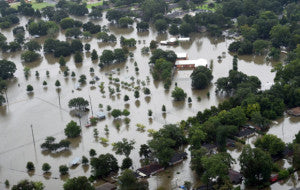 Only 25% of flood-damaged homes were covered by flood insurance - Image via Insurance Journal[/caption] "I think everyone in Louisiana should have flood insurance," Melissa Becker, assistant director and flood-plain manager for the Rapides Area Planning Commission,
told the Shreveport Times
.
After Hurricane Katrina
, many businesses and government entities struggled to reach evacuated and missing employees. The hurricane displaced more than a million people, the largest such migration in U.S. history. Infrastructure was destroyed. Total damage cost $108 billion. In Louisiana's flooded area, 22 school districts closed,
according to the Washington Post
. Some schools are flooded, but the greater problem is Replaceing school personnel. One district superintendent was living in a shelter on August 21, and an estimated 4,000 employees were displaced by the flooding. As of August 22,
2,800 people were still living in shelters
in the Baton Rouge area alone. We're just entering the height of Atlantic hurricane season. Right now, Hurricane Gaston is churning about 575 miles east southeast of Bermuda, but is expected to weaken without making landfall anywhere. However, two tropical depressions, which could possibly organize into tropical storms, formed Sunday. One is about 60 miles south of Key West, Fla., and is expected to hit Florida and move into the Gulf of Mexico. Another, which meteorologists have been following for several days, formed in the Atlantic west of Bermuda and is on track to bring heavy rain to North Carolina. The best thing anyone can do before a hurricane is prepare emergency kits and financial information, have flood insurance and be able to evacuate. "You're still going to have the homes under water," Keim told
Popular Science
. "You can't move the homes, but you can move the people."