Why aren't you prepared for a major emergency?
According to a recent survey
of 3,000 people, the majority claim they just keep putting off getting prepared. These people have even taken First Aid courses, so we know they're interested and even
want
to be ready. Procrastination is keeping us from being prepared.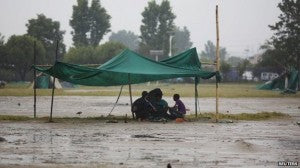 We all know disasters like to make an appearance when it's least convenient for us, and when we least expect it. The recent 7.8 magnitude Nepal earthquake should be a smack back to reality. One moment life is good, the next…, well, it's quite literally in shambles. This earthquake is just one reason we should not just be thinking about preparing, but actually doing it. And if you don't think such a disaster can happen to you, just remember the
earthquake that struck Michigan
earlier this month. Michigan Governor Rick Snyder said that "It's rare for Michigan to experience earthquakes, but as we were reminded today, it does happen." And if it does happen, why do we still procrastinate? Mike Lloyd of
News 1130
thinks that starting to prepare can be a little overwhelming, and he may be right. That's why St. John Ambulance is providing people with
15 Easy Steps to Emergency Preparedness
. St. John Ambulance is trying to remind people about the basics and also other things that people tend to forget about.
It all starts here, folks. As Ben Franklin once said, "If you fail to plan, you are planning to fail!" Does anybody ever really
want
to fail? And yet we plan on it – all the time – when we don't plan ahead for disaster. Make a plan. To get you started, here are some things you should think about when planning:
Exits and evacuation routes
Family meeting place
Emergency contact
Plan for pets
Important documents (Social Security cards, birth certificates, insurance, photos of family members and pets, passports, health information, prescriptions, etc.).
This is pretty much the go-to for every disaster. Make sure you have a kit, because when disaster strikes, hospitals could very likely only be taking in those that are most seriously injured. Your emergency kit should help you survive the next three days after the disaster. But you might not even be home when the disaster hits, to the people at St. John Ambulance suggest to plan ahead for that, too. "You may be in a vehicle, so you need a kit for on the road or at work. You may have high-heeled shoes on at work – how are you going to walk? You may not get home for many days." If you're unsure where to start in building your emergency kit,
ready.gov
has some good resources to look through. Or, if you'd prefer getting a kit already packed and prepared by experts, check out our
wide-range of emergency kits
.
We are all encouraged to be able to sustain ourselves for at least three days following a disaster. Having an emergency kit will definitely help with that, but without food and water (especially water), it's going to be most unpleasant. Water storage doesn't have to be difficult. Start by filling up 2-litre bottles from your kitchen sink and storing them out of direct sunlight. Each person should have about a gallon of water per day, so if you're planning on using 2-litre bottles, that's going to be about 6 bottles per person per day. If you have more room, consider investing in some water jugs, or even
water barrels
. These will help provide you with more water, so if you do need more than just three-days' worth of water, you'll be prepared. At the very least, make sure you have enough water for 72-hours. Every six to 12 months, you should get out your water storage and switch out the water so it always tastes fresh. Food is also fairly simple to store these days. Freeze-dried food can last up to 25 years, so if you get a can or two of your favorite meal to keep on hand, you'll have a three-day supply of food without any hassle on your end. Best of all, freeze-dried meals are delicious and easy to prepare – just add hot water, wait about 10 minutes, and you've got yourself a full-on meal!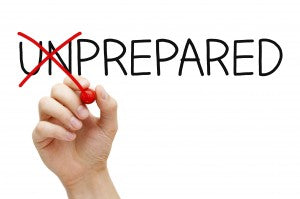 So you see, preparing for disaster doesn't have to be hard. You can even start today by filling water containers and stashing them in your storage room. That will take about five minutes. Now's the time to start preparing. Don't wait until it's too late. Even if nothing happens, there is peace of mind that comes in knowing that if a disaster
did
strike, you would be ready for it. Don't let procrastination get the best of you. Prepare today!
What strategies have you found that help you get motivated to prepare?