Super Bowl 50 is coming up Sunday. So it's a good a time as any to remember the 2013 Super Bowl, when a power outage left half the Superdome dark. Before the lights went out, the Super Bowl was humming along. The second-half kickoff had just produced the longest play in Super Bowl history when the Baltimore Ravens' Jacoby Jones returned the kick 108 yards. Baltimore was leading the San Francisco 49ers 28-6 and the 49ers had the ball when, suddenly,
half the stadium went dark
. CBS, which was broadcasting the game, lost power to its main booth and some of its cameras, and had to broadcast from its secondary area. "Everything shut down," Carl Trinchero, a
49ers
fan from Napa, Calif., who was in the Superdome,
told the Associated Press
. "No credit cards, vending machines shut down, everything shut down." [caption id="attachment_19993" align="alignright" width="300"]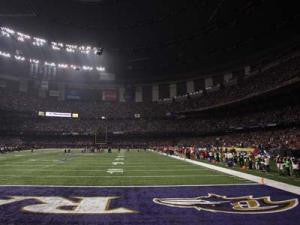 Fortunately, the Super Bowl only went half-dark - Image via Mercury News[/caption] Later investigation showed that a recently-installed electrical relay device designed to prevent a power outage
actually triggered one
. It wasn't set to handle the amount of power needed at the Superdome, so signaled a surge when there wasn't one and tripped, just like a circuit breaker in a home. It took 22 minutes to turn the power back on and 34 minutes before the game began again. However, because several safeguards were in place, what could have been a tragedy became more of a joke. Facebook even got a new community: "I survived the Super Bowl 47 power outage." First, backup power immediately kicked in. The outage only affected half the building and
auxiliary power kept the field from going completely dark
. "People like me looked at that and were like, 'That's awesome that it only went half-dark,'" Juliette Kayyem, a board member of the International Centre for Sport Security (ICSS),
told Vice.com
. In a power outage at home, light can be your best friend to prevent panic. Make sure you've got easily accessible backup lighting. Even with backup power, many systems didn't work. Concourses were lit only by small emergency lights. One elevator got stuck with people inside, and
firefighters had to rescue them
. Credit card machines shut down. Have you thought about what else you might lose during a power outage? [caption id="attachment_19994" align="alignright" width="300"]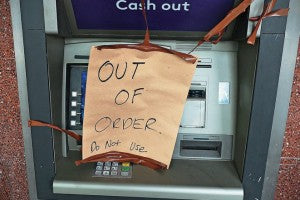 Image via Real World Survivor[/caption] If you live in a high-rise building, for example, water most likely is pumped to your floor. Lose power, and the pumps won't work. Also, do you keep emergency cash in small bills? In a power outage, you won't be able to access an ATM, and your credit card won't work.
Communication proved vital
to keeping people calm. The public address announcer immediately came on and encouraged fans to stay in their seats. Social media went crazy: AT&T reported that in the Superdome, cell data use was
almost doubled
from the same time the year before. In fact, the NFL's security chief said
fans were calm because of their preoccupation with their electronic devices
. Do you have a way to receive communication during a power outage? Do you have a way to charge your phones? Be aware that during a disaster, cell phone service will likely be jammed, so try to use text messaging to communicate. Although authorities haven't found any credible security threats to Super Bowl 50, they are concerned about a recent spate of attacks on fiber optic cables. Since July 2014, vandals in northern California have cut at least 16 fiber optic lines, which carry Internet, TV, and phone information. Tens of thousands of people have been affected, but so have banks, stores, and anyone else that uses broadband services to communicate information. Hypothetically speaking, it would be bad enough if a person can't access their (expensive) e-ticket to get into the event; it'd be worse if, say, a hospital can't access a person's medical records. So this weekend, be prepared. Be safe. Have fun. And go Broncos. - Melissa