Your town is landlocked, so there's no threat of hurricanes. Tornadoes tend to avoid your state, and earthquakes just don't happen. So what's to worry about?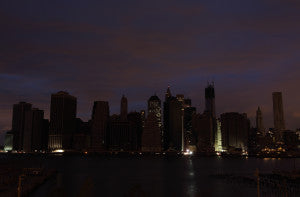 Chances are you use electricity in your home. No matter where you live, there is always a threat that your power will go out. In fact, the United States experiences "more blackouts than any other developed nation,"
according to International Business Times
. They went on to say that the number of power losses along the U.S. grid have escalated 285% since 1984. And, with the demand for power still growing, those numbers will just get higher. So hopefully you're preparing for the inevitable blackout. But once it does come, what then?
Light It Up
First of all, know where your backup lights are (flashlights, emergency candles, etc.), and keep them in an easy-to-reach place. This way, you'll be able to Replace everything else you need quickly – without having to stumble through the dark. When using candles, it is important to exercise caution, as they have the potential to start fires. While a larger fire will provide more light, it will also cost you a lot more in damages. Pros and cons, I guess.
Power to the People
Now that you have light, the next step is to give yourself power. You can't always have a super-generator on hand to keep your entire home up and running for the duration of the blackout (although that
would
be nice), but you can prepare with power packs,
batteries
, and chargers that will keep your electronic devices working despite the lack of electricity. This way, your phone will always have a charge, just in case you need to make an emergency call – or play an emergency game of Angry Birds. That being said, try and keep the games and movies to a minimum so as to not run down your power sources before you need them for actual emergency purposes (not that Angry Birds isn't an emergency, but…you know what I mean). [caption id="attachment_19985" align="alignright" width="300"]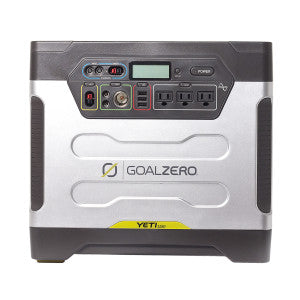 Generators like this Goal Zero Yeti are safe to use indoors because they don't run off gas. It can also be hooked up to solar panels![/caption]
A note about generators:
Most generators should never be used inside, no matter how safe you think it is. You may be able to Replace some indoor-safe generators, but unless stated as such (and certified), don't risk it. Carbon monoxide is deadly and you may not even realize you're being poisoned by it. The same goes for grills, camp stoves, and other gas-powered cookers and heaters. Basically,
if it's portable, chances are it's not safe to use indoors
(this includes the garage and carports. There is danger even if there is ventilation). There are, however,
generators you can have charged well in advance
that will last you many hours. Because these run off stored electricity, they are safe to use inside.
Stay Safe
If it's cold outside, keep to a higher level if possible, as warm air rises. Wrap yourself up in blankets and layer up your clothing to keep in that body heat. Alternately, if it's really hot outside and your power goes out, make your way to the basement or other cool area. Wear light, loose clothing as well. Regulating your body temperature is vital during a blackout. If it is dark, don't try and venture around your home without a light. Falling down stairs or knocking your head on an open cupboard can make things a lot worse. Likewise, if the power's out, the streets will most likely be dark as well, so it might be best to just avoid going out into the blackness of night.
Keep Your Food Safe
According to
Ready.gov
, food in your refrigerator should stay cold for about 4 hours, so long as you keep the door shut. A freezer full of frozen food will maintain its temperature for up to 48 hours.
Know When to Call it Quits
Sometimes, the best thing to do is admit defeat. If the blackout is going to last longer than you're prepared for, you might need to check in to a hotel or stay with a family member nearby. Doing so is not showing weakness – it's showing wisdom. If you're having troubles preparing food, staying warm or keeping cool, Replaceing another location to spend the night or next few days would be a wise move indeed.
What are some other important steps to take during a power outage? Let us know in the comments below!