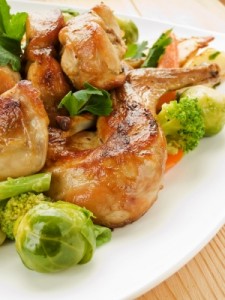 Have you ever thought about expanding your food storage to include raising livestock?
Perhaps you're interested in increasing your home food production? Given that many of us live in suburban neighborhoods where there are zoning res
trictions, space issues, and time concerns, you may think that raising animals is a pipe dream. Well, what about rabbits?
For the prepper lifestyle, rabbits make a very attractive food source. For anyone who is interested in a healthy, lean, delicious meat, rabbits are the way to go. – Sharon Hanks
If you have the space (and it doesn't take much), consider including rabbits in your long-term food production and storage plan. Rabbits can provide fresh meat without the space requirements that cattle need and without the noise that chickens create.
Read about the other benefits of raising rabbits from Sharon at Skyview Acres.
The Guide to Raising and Breeding Rabbits for Meat from Mother Earth News is another resources that's packed with information.
It's written for beginners, by a beginner. Here's an excerpt:
A Chinchilla weighing three pounds, live weight will cost you from 25 to 35 cents or a little more to raise. You'd pay a dollar, at least, in the market for him.
The article also brings up how much time you'll need to put into raising the rabbits, what a hutch should have, and what to feed your rabbits.
And of course, what would a blog about raising rabbits be if we didn't talk about how quickly those wascally wabbits multiply? First, let's be clear on one thing: the world does
not
need more pet rabbits. There are plenty of pet rabbits in stores and shelters. If you're squeamish about turning the rabbits you raise into meat, Replace someone who might be able to butcher them for you
before
you start breeding, because you'll quickly have a lot of rabbits on your hands. Rabbit gestation is about 30 days, and litters can run from 5-12 kits, depending on how you've bred your does. 7 kits is generally recognized as a manageable litter size (for you and the doe). It's recommended that you give your doe at least 40 days after the last litter before breeding again. If I've done my math correctly (and I'm using a conservative time estimate) that's 42 rabbits – from one doe.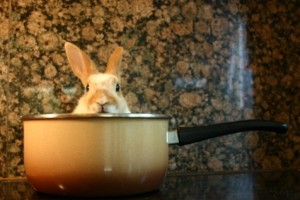 If you'd like rabbit meat without having to raise them yourself, check these links for breeders in your area.
http://www.rudolphsrabbitranch.com/rrrbrdusa.htm
USA by state (lists also available for Australia and Canada)
http://rabbitbreeders.us/state-rabbit-breeders-index
(some on this list are show breeders so read carefully)
Here are other informative articles on raising rabbits.
Raising Rabbits: Helfpul Suggestions for Beginners
from Washington State University
A Primer on Backyard Meat Rabbit Raising Practices
by Mary-Frances R. Bartels of Rudolph's Rabbit Ranch and Waterfowl Farm
American Rabbit Breeder's Association, Inc
.
Follow one of the great conversations on raising meat rabbits from our Emergency Essentials Be Prepared Forum.