I just tried the Mountain House freeze dried cottage cheese and I'm in love. You heard me correctly. Mountain House freeze dries cottage cheese! It's pretty impressive.
In the past, dehydrated and freeze dried milk products have gotten a bad rap. (Except
Emergency Essentials' dehydrated milk products
, of course. They get rave reviews.) So I set the bar really low for what I thought would be some freeze dried cottage cheese malarkey.
It's no malarkey folks! Freeze dried cottage cheese is… well, good!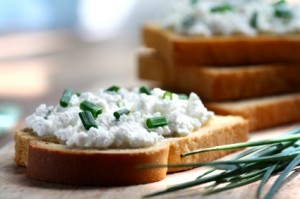 It's easy to get excited about this Mountain House product. When the freeze dried cottage cheese is rehydrated it
looks
like cottage cheese (not some pulpy mess) and it
feels
like cottage cheese (not a glop of white stuff).
The texture and flavor are both spot on. Individual curds stand on their own and are firm and chewy, just like curds ought to be. The saltiness of cottage cheese comes through, too. I followed the instructions on the can; after 15 minutes I added a little more water because I like a little more liquid in my cottage cheese.
You might not have considered adding cottage cheese to your food storage because it seems like such a luxury item, but now you can! Plus, if you buy 6 or more cans of this freeze dried Mountain House food storage you'll get 25% off your purchase (sale ends today).
Little Miss Muffet couldn't be more pleased than I am. Now, if only I could Replace a tuffet to sit on…
~ Steph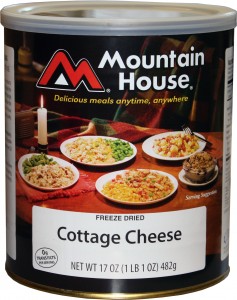 Here are 10 ways to eat your freeze dried cottage cheese:
1. Plain
2. With fruit
3. Add herbs or seasonings and eat with crackers.
4. Add to salad dressing
5. Add to an omelet
6. Mix into smoothies for a protein boost (with fruit!).
7 & 8. Pair it with Pasta
a. Stuff pasta shells – use your long and short term food storage! Mix with tomato powder, pasta shells, and cottage cheese.

Toss with spaghetti, onions or garlic, and pepper.
9. Make a vegetarian taco (thanks for the idea www.Daisy.com) – Mix cottage cheese with pico de gallo, add avocado, and eat in a warm corn or flour tortilla.
10. Use in a dessert. Layer it with granola and berries to make a parfait.