With all the rain this country has been getting (looking at you, California), let's take a look at the state of the drought. Beginning with California, it's safe to say that things are looking up.
According to the LA Times
, drought conditions in California is now just over 51% of the state. Compare that to last year where most of the state looked like a sunburned lobster. Yes, things are certainly looking up.
But that doesn't mean the drought is over. Au contraire! Nearly 25 million people still live in an area with drought conditions, according to the U.S. Drought Monitor. But that's just in California. There are many other areas in the country where drought is still a big issue (including California). The South is also in a drought.
Back in November 2016
, farmers and ranchers alike were having a very hard time due to the severity of the drought. Today? Things are, much like California, looking up. All the rain in the deep south has
erased most of the worst bits
. But drought still lingers, especially in Oklahoma and Arkansas, where extreme conditions still blight the land. Will all the rain we've been having kill the drought for good? In the South, there's a chance. As for California, however, there's still a long way to go.
From a Wired article
, we read what it means to get out of a drought. "Common drought indicators," they say, "evaluate the balance between water that comes into the state…and water that goes out." How does water come in, you ask? Rain and snow, mostly. Unless you count bottled water from Fiji (which doesn't actually count). Water leaves the state in runoff, evaporation, and – get this – consumption. People drink and use a lot of water. The minimum amount a person needs to survive is about a gallon of water each day. With 25 million people in still in areas of drought, each day uses at
least
25 million gallons of water. More when you realize people use much more than just one gallon of water a day. [caption id="attachment_21435" align="alignright" width="300"]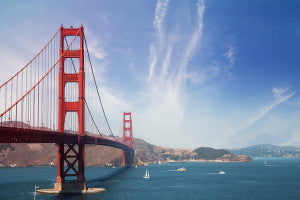 If only there was some way to make all this water drinkable...[/caption]
In a 2011 study
, it was average annual total water use per home was 362 gallons per day. Let's assume that each household has cut its water usage by 20% (like they were supposed to). That's still 289 gallons per day. Now say each household has four people. Some might have more and some might have less, but let's just go with four. That equates to about 72 gallons of water a day per person. Now, just speaking of the area still in drought (25 million people, remember), that comes out to 1.8 billion gallons of water per day for 25 million people. Again, that's just taking into consideration the 51% of the state still affected by drought. It's no wonder some say
California's drought is never-ending
. At any rate, we're still very excited about how far California's drought has come. While there will still be dry spells and hot temperatures, things really are looking up (despite that behemoth number you just saw). But just because the state is practically drowning in water (more on that in a future post) doesn't mean it's time to take off the restraints. The battle isn't over yet, but at least those in California can finally see some headway.
Written by Steven M.