[caption id="attachment_21121" align="alignright" width="300"]
Filipinos cleaning up after Super Typhoon Haima - via Yahoo News[/caption] Super Typhoon Haima (or Lawin, as it is known locally)
tore through the Philippines
on Wednesday with sustained winds of up to 140 miles per hour. Haima was upgraded to super typhoon status just before it reached the northern part of the main island of Luzon. Over 10 million people were in Haima's path, yet only seven people were killed. In comparison, Super typhoon Haiyan in 2013 killed more than 7,350 people. Haima is the second typhoon to hit the Philippines in a week, and the
seventh Category 5 storm
of 2016. The Philippines is now reeling from
Haima's effects
, including flooding, mudslides, and power outages. The Philippines sees an average of 20 typhoons a year, but Haima certainly left its mark on the locals. "This is the strongest typhoon I have ever seen,"
said one 60-year-old villager
. Typhoon Haima is now on its way across the South China Sea towards South East China. Typhoon Sarika, which hit the Philippines a week ago, also
dumped more than 10 inches
of rain in parts of China as it passed. Already saturated with water,
China expects more damage
and flooding from Haima. [caption id="attachment_21122" align="alignright" width="300"]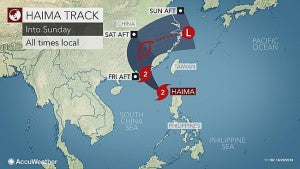 Typoon Haima's predicted path - via AccuWeather[/caption] Typhoon Haima looks to weaken to a Category 2 storm by the time it reaches landfall on China's shores on Friday, making it much less intense than the super typhoon it was as it blew through the Philippines. Still, severe flooding is expected, and "roads and bridges could become destroyed, isolating some communities,"
according to AccuWeather
. Haima shouldn't post too much of a threat to Hong Kong, but will bring high risk further East. As far as Haima's typhoon status is concerned, things should be winding down by the end of Sunday. The Pacific typhoon season
goes through December
, however most of the tropical cyclones occur between May and October, so things should start winding down for those affected in the Pacific.