[caption id="attachment_21113" align="alignright" width="150"]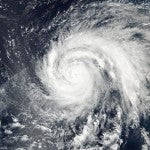 Typhoon Haima - Image via NOAA[/caption]
Typhoon Haima
may have just recently lost its status as a super typhoon, but wind speeds are still careening at 140 mph and has
just made landfall
in the northern Philippines. Haima, one of the most powerful storm since
Haiyan in 2013
, Haima looks to add more destruction and flooding to the already soaked Philippines thanks to the recent Typhoon Sarika. Sarika made landfall just a few days previously. Fortunately,
according to forecasters
, Haima looks to be heading to less populated areas in Northern Luzon. That, and those up in the North deal with many typhoons each year, so they know what to expect. [caption id="attachment_21112" align="alignright" width="300"]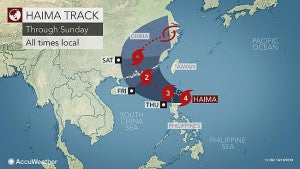 Typhoon Haima's predicted track - via AccuWeather[/caption]
According to The Weather Network
, a storm surge of up to 10 feet is expected, as well as more than a foot of rain over northern Luzon. It is expected to
remain a violent storm
as it nears China, and may also impact Hong Kong. The image to the right is Typhoon Haima's predicted path through Sunday. While it will continue to dwindle in strength as it crosses the South China Sea, even a category 1 storm can be devastating. The Philippines is hammered by an average of 20 tropical storms each year. Super Typhoon Haiyan in 2013 killed more than 6,000 people. Because northern Luzon is less sparsely populated, it is hoped that casualties will be much lower, and damages less sever. However, being such a strong storm, there is still expected to be heavy damages. The Philippines Red Cross is already waiting to help those in need, along with other emergency agencies. There is not much news at the present as to how the storm is progressing as it makes landfall, but we will keep tabs on the situation as the storm progresses.