By Beth Buck
[caption id="attachment_22039" align="alignright" width="300"]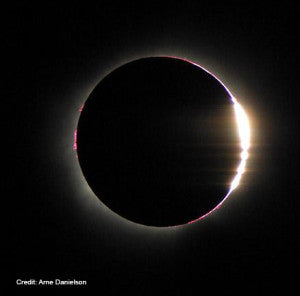 August 2017 eclipse (photo courtesy of NASA)[/caption] I spend the weekend before the eclipse in Eastern Idaho (purely for emergency preparedness-related research purposes, of course), keeping my eyes out for any signs of the "apoceclipse" or "eclipsepolypse" or "ragnarok," that I might report on them for Science. If you recall last week's post about eclipse preparations, my contact in the path of the eclipse prepared extensively for the disruption of utilities tied to a vast influx of eclipse chasers. Now that the event has passed, let's see how the expectations/preparations hold up to reality.
Extra water. All utilities in the area where we were continued to function perfectly and without any problems. Water, electricity, internet, gas, everything was available with no disruptions. All the stored water remained in its containers since we were able to get it from the faucets.
Emergency toilets.. Since the regular plumbing remained in place, we felt it unnecessary to resort to our emergency backup.
Food storage. Groceries were purchased well in advance of the invasion, and that was just as well. On the Friday before the eclipse, someone of our acquaintance visited the local grocery store and found it empty of milk and eggs. That said, a neighbor reported purchasing an incredible amount of food that did not end up getting used at all. The day after the eclipse he offered to sell it off to neighbors rather than risk it spoiling.
Cell coverage remained undisrupted, and therefore the ham radio transceiver stayed in its little box on the shelf. (Even though we didn't need to use it for emergency communication this time around, it is still very useful and highly recommended to get licensed.)
The cash he had on hand to use for emergency purchases in case credit card readers crashed along with the cell towers didn't end up getting used. While he did run some errands that weekend, including on the day of the eclipse itself, all credit card readers functioned perfectly.
Gas stations in the area had sufficient fuel, so the extra gasoline did not get used, either. At least some family members who intended to use it to top of their vehicles forgot entirely about this small supply until they had already been on the road for forty-five minutes.
Off-grid cooking methods. The barbecue got used a lot this weekend, though not for emergency preparedness reasons – nothing makes a good family gathering like hamburgers on the grill.
Electrical generators also remained unused since there was absolutely no problem with the electricity.
So as you can see, most of these preparations really was overkill. But does that mean this level of preparedness completely pointless? No way! Even with the ability to predict some disasters, you never really know what a situation will be like until you have to live through it. It's always good to over prepare than under prepare, and it's better to have preparations in place and not use them, than to not have anything ready and wish you did. This isn't paranoia, it's good planning.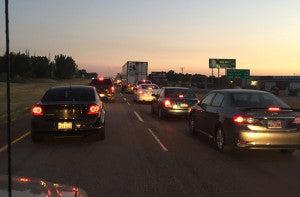 Even though utilities were never disrupted in Eastern Idaho, the predictions for heavy traffic immediately following the eclipse were spot on. One of my family members left Idaho for her home in Utah County about an hour after totality. She called seven hours later to inform us that she was going to stop in Malad for a break, a town that is usually only two hours away. When my family planned our trip, we knew the traffic was likely to be awful and planned accordingly. We waited until Tuesday, the day after the eclipse, to make our exit. Our traffic watch app informed us that heavy construction on the I-15 was causing poor traffic conditions, so we took an alternate route to avoid the hold-up. Thankfully, we still managed to make good time. All these preparations and plans were for the sake of the total solar eclipse, an event that lasted less than three minutes. I've had some people ask me, "Was it worth it? It's just a shadow." Do I think the hours of preparation and driving were worth the opportunity to view the totality? Absolutely.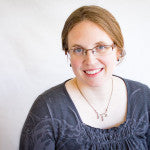 Beth Buck has been involved with emergency preparedness since her very earliest years. She enjoys hiking, martial arts, reading, and writing about food storage. Beth lives in the Intermountain West with her family.