Admit it: when the National Weather Service issues a severe thunderstorm warning, most of us respond with a yawn. Well, maybe we shouldn't. So far this year, eight U.S. natural disasters have caused $1 billion or more in damage,
according to the National Oceanic and Atmospheric Administration
. Six of those billion-dollar disasters were severe thunderstorms. (The tally doesn't include the recent West Virginia flooding, because losses are still being calculated. Also, seven of the eight disasters were in Texas. Apparently, Mother Nature disagrees with the slogan "Don't Mess With Texas.") A thunderstorm is severe if it does
one of three things
: has winds of 58 miles per hour or higher, produces hail at least an inch or larger in diameter or creates a tornado. All of these components can be dangerous to both people and property.
Wind
Severe thunderstorms
can bring gusts of more than 100 miles per hour, equivalent to an
EF1 tornado
. High wind can knock down power lines, lop off branches and topple trees on to homes and cars. It can knock vehicles off the road.
According to weather.com
, in 2014, high winds from thunderstorms killed 33 people and injured 240. This weekend,
three people drowned in Lake Michigan
when high wind whipped up the water. Prepare for high wind by removing dead and rotting trees and branches. Pay attention to weather reports and be willing to change plans. Hours before the Lake Michigan drownings,
the National Weather Service issued a beach hazard statement
that warned of dangerous swimming conditions. If weather reports say a severe thunderstorm is coming, bring in patio furniture and other things that can become projectiles. Keep a cooler and ice around to store food in case of a power outage. After the storm passes, remain cautious. Assume downed power lines are still active.
Lightning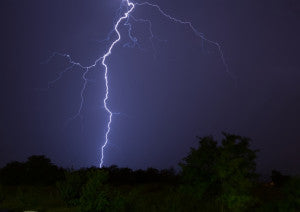 Every year, lightning kills an average of 51 people and injures hundreds,
according to ready.gov
. A home in south Florida had its
wall shredded by a lightning strike
that also knocked out power. If outside, pay attention to weather reports and be ready to seek shelter if lightning is in the vicinity. If inside, stay away from windows, doors and plumbing – bathroom fixtures can conduct electricity. Unplug electrical devices to protect them from surges.
Hail
At least half of the cost of damage from severe thunderstorms is from hail,
according to weather.com
. Quarter-size hail can damage roof shingles. Golf ball-size hail can dent vehicles. Baseball-size hail can smash windshields and softball-size hail can poke holes in roofs. If a severe thunderstorm warning says large hail is possible, try to Replace a covered place for a vehicle, and Replace shelter.
Flash flooding
Flash flooding is the biggest killer from thunderstorms, taking more than 140 people every year,
according to ready.gov
. Prepare for floods by making an emergency plan with alternate travel routes to shelters. Six inches of fast-moving water can knock a person down and two feet can sweep a car away. Pay attention to flash flood warnings.
Tornadoes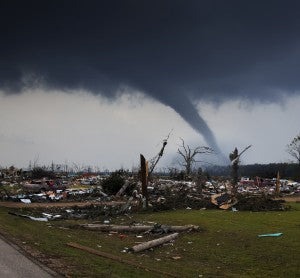 A severe thunderstorm warning can quickly become a tornado warning if the storm develops enough rotation. If a severe thunderstorm warning includes the following warning: "Severe thunderstorms can and sometimes do produce tornadoes with little or no advance warning," treat it like a tornado warning,
suggests weather.com
. Severe thunderstorms are frequent enough to be easy to ignore. Yet severe thunderstorms can cause severe damage. So far this year they've accounted for
more than $10 billion in damage
and 17 deaths. Next time the National Weather Service announces a severe thunderstorm warning, don't shrug it off.